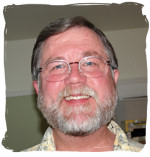 My day to day posts are out on Facebook now. My latest journal updates can now be found here. You can read about me here.
On this home page I'll just give you links to new stuff on my web site.
Artisanal Bread - Chewy open crumb, dark brown crust.
Oculus Quest - Passing on tips I've learned.
UK Travel Ideas - Things you might not think of seeing.
A Future Without Jobs - Something that scares me and it should scare you.
New Prius V - Buyer beware. Learn from my experience
Chromebox - Turn it into a cheap, nice linux box
Halibut Chowder - A deep flavor with a lighter broth.
Maker Bulletin Board - A place to track and share information about making all kinds of things.
Vegan Curry - Made with base spices, not "curry powder", you can adapt the taste as you like.
Pewter Casting - Cheap and easy to do at home.
Zeh Garden - Angela's garden resources.
Maker Jim - Stuff I've made. I've been busy.
Instructables - I tell how to make some things.
My Own Inlay Art Work - For viewing and sale at Etsy.
AlaMode - An Arduino card from Wyolum made to work with the RPi.
Raspberry Pi - A new hacker micro computer is available. This one is really hot!
Thai inspired spicy peanut dip for celery A real crowd pleaser.
Spicy and delicious red adobo sauce recipe
Observations of a Second ant colony You might also enjoy my report on the first colony: Ants in Saratoga - I followed a trail and found more than I expected. These little guys rule the world.
Yellowknife - We visit Yellowknife, NWT in the dead of winter on a quest to see the Aurora Borealis.
Halloween 2011 - A week after the actual date, we still had a ton of costumers.
I have a new iPhone app in the iTunes store! [Or I did until Apple caused too many problems in 2017.] I learned xcode - read my journey.
Spring 2011 Open House - An all day affair that brings together great people for food and conversation.
Public Employees - How much should they be paid? How much are they paid?
DragonfireSDK - How I made ShooFly. If you're thinking about using it, read this first.
Picasa - I've used it long enough to have some opinions. I detail a few pitfalls for you to avoid.
Springfield/Grand Rapids - A distant family reunion with Lincoln and a relaxing time with Chihuly.
iPad Review - I've had it a month now and something is going on.
Elm Housewarming - The remodel is done at last (or almost) and we had an open house in May.
Vegetarian Chili - This is unbelievably good. Just the right mix of spice and heat.
Homemade Bread - No need to knead, this bread is foolproof. My very first loaf came out great.
ALL the places I've lived - A comprehensive review. Just got a photo of the last one today.
Ken Burns DVDs have problems playing. What's up with that?
My iPhone is simply the best device I have encountered in years.
Our trip to Makers Mark in Kentucky has been well documented by Paul. A good place to visit for a few days. I probably won't go back anytime soon.
Microprocessor Madness - An old dog tries to teach himself tricks that he used to know. This is my notebook of Arduino experiments. It's now talking to the internet!
Balsamic Vinegar Chicken - Braised with Swiss chard, one of my favorite vegetables. The tastes are strong and well balanced. We enjoyed this with a nice Ridge Zinfandel. A savory treat.
Barclays Bank Visa - Are they looking for suckers? Step right up and win a cute stuffed animal. Just toss a coin onto one of those plates.
Watermelon Salad - A strange but refreshing combination of flavors.
Broccoli, Mushroom, Raisin salad - Shamelessly ripped off from Paul's site. This can be the entree on a hot summer day.
Facebook Tips - If you're new to Facebook, here are a few tips to keep you from shouting your innermost secrets (and tips on how to discretely silence those who talk too much).
Skillet Apple Pie - I've made this several times now and it is both simple and delicious.
Red Pepper Soup - It seems like all I'm doing is cooking these days!
Easy Coq au Vin - This recipe from Cooks Illustrated is so rich and delicious even your most particular friends will declare you a kitchen genius.
Yahoo? Hello? - They really don't want to hear from their customers.
ATT U-verse - I made the switch, and I am really happy with it. better than expected.
My Kindle 2 - This is simply one of the best devices around. Who would have guessed that I would like reading the daily news on an "eBook".
Federal Stimulus Details - With all that money flowing from Washington, you might like to know how much will be spent and where.
Obama and the Active Duty Military - It turns out that the data shows they favor Obama over McCain. I can't blame them.
If you read this drop me an email... ... and just say, "hello."
---
Genealogy
Some family names that we research (well, if someone writes we write back):
---