The Schrempp Family Web Photo Album
Here's a few photos and other noise about my family.
We have some pics of the extended family too.
Mom's side of the family:
Peggy has put together a web site with some pictures and information on the Kolm Great-granparents in Oregon around 1910.
Grandma and Grandpa Kolm (Kay and Lee). Used to work for NBC Radio in SF. Grandma was a super weaver and belonged to the local guild. Some of her work even won awards!
Mom's older brother, Rich Kolm. Used to work at East Bay MUD and is a train enthusiast. Rich is married to Jackie Mabry Kolm. We lost Rich in 2009. I miss his conversation and interest in the things I do. He was a great uncle.

Their daughter Peggy Kolm finished her graduate work at MIT as an embryologist/molecular biologist and is married to Dr. Gene Huh, another concerned with the machinery of life. Peggy has done some research into this side of the family - check it out. Gene played with a popular band, The BoXKutters. The BoXKutters broke up and now Gene plays gigs around the southland.
Their son, Brian Kolm is a freelance animator and artist with his own website.

Mom's younger brother, Dave Kolm, owned a great furniture shop in Hayward, CA. His wife Marian was a school teacher. They are now retired and travel the world, although Dave still keeps his hand in the sales world.

Daughter Debbie has three great kids, Lauren, Alex, and Kathleen.
Son Ken lives a life of adventure.
Dad's side of the family
Grandma and Grandpa Schrempp (Edith and Joseph). Grandma lived in Concord for many years.
His sister Frances Orput is semi-retired and involved with her church.

Brad and Claudia and family live in Carson City.
Wade lives in the east bay and works in IT.
Matt was an electrical engineer and passed away several years ago. He was a great guy.
Craig and La Von and family live near Portland.
Shots of the Gang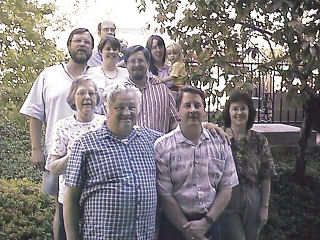 1999 - Three Generations in Saratoga
Genealogy
Some family names that we research (well, if someone writes we write back):