Bob and Katie Marry

in San Luis Obispo

(lots more photos below...)
May 97
Prenuptial Fun
It's June's birthday today, and my youngest brother Bob will marry his beloved Katie this Saturday. Sounds like a good time for a road trip!
The wedding is planned for Saturday night. We're out of San Jose early on Thursday to make SLO in time for the weekly farmer's market in downtown. Six blocks of the main drag are closed to traffic and filled with local produce. Restaurants in the area put out BBQ pits on the street and offer chicken and ribs ($1.50 a rib). My favorite is the SLO Brewing beef ribs, June likes Mo's. Starting at 6PM we wander the street looking in shop windows and munching on carrots and sweet rolls. Four bands are spread out along the route and we stop to listen to old rock, jazz, and even some gospel. It's a great family affair. By 9PM it's closed up and we're back in our room.
This is a great place to stay in SLO: The Garden Street B&B (805) 545-9802. Only two blocks from downtown in a renovated 1887 Victorian, this B&B is an excellent value. Rooms range from $90-120 with suites going to $160. Each room is decorated with a theme. I recommend Field of Dreams with a baseball motif. This room is situated best in the house. If FoD is taken, try Cocoon or Edelweiss. Next is Our Town. Ah Louis or Amadeus are also nice. You'll be happy in any of the rooms in this B&B.
Friday we're up and around town. The B&B serves a nourishing, but not overbearing breakfast of egg and cheese casserole. By 10am we're on the streets. June and I take a leisurely stroll up and down the six or seven blocks closest to our lodgings. Each street is warm and comfortable to both the eye and foot. This Friday morning is still and calm. Some houses are majestic, some pedestrian. Some gardens are well tended, others a natural cacophony of flowers. We diddle around and find ourselves walking the downtown again. This time we peek in and out of stores. We end up reading in front of the downtown roasting company, cup of java tightly held in hand.
Lunch at the Creekside cafe is wonderful. I've always wanted to try it, but events conspired against me. This time we sit outside overlooking the lightly flowing San Luis Creek. The air is humid and hints of a rain that never comes. June's polenta dish drives her wild with delight. I'm satisfied with my vegetarian salad, but the cauliflower and roasted garlic soup leaves much to be desired. Next to us are two local lawyers comparing notes on the business. "How does your office split up Xerox costs?" asks one. "How many staff do you keep?" asks the other. Behind us is a birthday girl of 35 opening her gifts with a few friends.
4PM we're out at Embassy Suites, site of the big affair. Bob is in the lobby, surprisingly calm. His warm smile brings us into the group. Eventually the whole family shows up and Rev. Mike gets on with the rehearsal. June and I are off to the store for some supplies and everyone makes their way to the Los Osos home of a friend for a pre-wedding buffet. We've met Katie's family, and they are very nice. Old family friends from out of town are showing up and we have a quiet evening of chat. I haven't seen nephew Steven since birth and he's now a big 21 months. Yellow haired with dark eyes that burn into me when he looks. He's started out shy, but now walks the room exploring the corners and the fish tank. Nancy and Greg have done well to raise such a well behaved guy.
Brian wants to find some action in town tonight, but June and I need to sleep. We say adieu and hit the road.
Saturday
Our car is in front of the B&B so we have to feed the meter by nine. We each get a paper at the local 7-11 and enjoy our eggs and coffee. Our first duty today is to be at the flower guy's house by 11:30. We pack, play with our computers, and get on our way.
Down the freeway is the seaside community of Shell Beach. It's small and quaint core is surrounded with the Spanish tiled roofs of monster houses built by ex-Los Angelinos escaping their decaying city. The frontage road passes several small cafes, coffee shops (not coffee houses), and businesses selling the detritus of the beach. We take a right and follow a little road towards the shore passing well maintained houses. 241 is on the left here we find Greg's place. Flower man of the day, his backyard deck is covered with potted table plants and several large table arrangements of fresh flowers. It takes us two trips in the Bronco to get them all back to the hotel, and even then Greg has to do his share with his Toyota.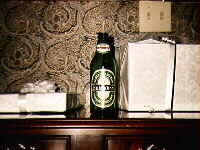 4PM finds us all in Suite 242, locked and loaded for ceremony. Bob hands me the keys to their newly acquired motor home and says, "you're driving." We whisk Katie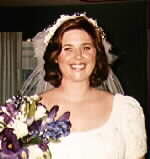 and company out the door and into this new age limo. It's big. 30 feet long, white, and a bright orange stripe down the aluminum side. With a full complement of tuxes on board I hit the gas and light out, only to jam on the brakes with a cry of "Watch out!" Ever the cool one, I casually glance to the left hand mirror and see the side of our bus just inches away from the next door van. Hmm, this baby is bigger than I thought.
We bump and grind our way over the speed bumps, onto the freeway, and over to Sycamore Mineral Springs for some pictures. It's a lovely place with great grounds just outside Avila Beach. The picture line up is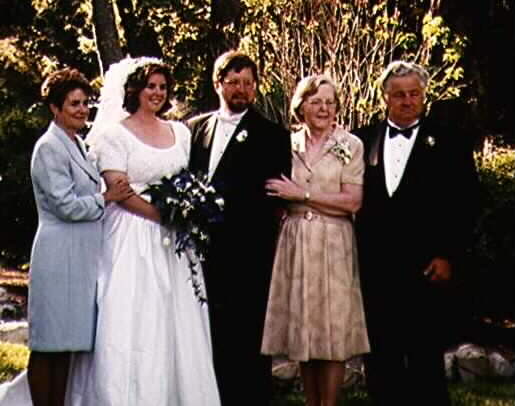 Katie
Katie + Bob
Katie + Bob + Bob's parents
K + B + Katie's mom
K + B + Katie's mom + Bob's parents
K + B + Km + Bp + the Bridal Party
K + B + the Bridal Party
K + B + BP + Km
K + Katie's brother Chad
K + Km + KbC
B + Bob's siblings
K + B + KbC + Bs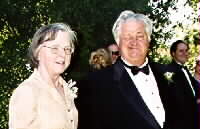 Man, I can't go on anymore, it makes me cry. Suffice it to say that the event was well photographed. We ended with some beautiful pictures of Bob and Katie holding hands in the glow of the setting sun. We're running very late. Back in the bus and I speed us back to the Embassy Suites. No one thought that motorhome could go over 55, but I showed 'em. Flying down the superhighway the cross winds keep us light on our tires. I'm holding the wheel to a full 45 degrees starboard to net out a straight course.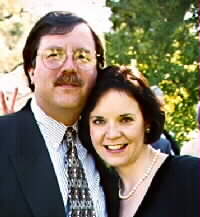 Katie sneaks up the back elevator to the hospitality suite for final prep. Mike and I take to our usher posts, but two hundred people are already seated. Marian and Dave, Rich and Jackie, Ken and Brian, Nancy and Greg, Frances, Pat and Dennis and Ed. The parents show up to take their seats and moments later the groom is at station with his entourage. Rev. Mike starts the music and Katie enters the glass elevator at the fourth floor with her brother Chad. Stopping at each floor on the way down, Katie beams from the edge of the glass as her white gown gleams. The elevator makes this a grand entrance.
I won't say much about the ceremony itself. It was just the right length and the vows were beautiful. They stood on a dais under a white trellis adorned with vines and three huge floral arrangements; the topmost showing three bright, red-orange sunflowers. While we listened to Andrew Lloyd Webber, the video cameras whirred from the first balcony. Bob and Katie leave amidst raucous applause and Rev. Mike invites the celebrants into the grand ballroom.
With 250 people in attendance, the ballroom is packed with tables. Family finds family, friends find friends. Sometimes these boundaries cross and we drink to the health of the new couple. Rev. Mike turns out to be quite a standup comic. The Best Man, Andrew Spilberg, toasts to remember when Katie and Bob first met. Apparently at a post-Rose parade football game Bob introduced himself by throwing Katie down in the mud. She responded with a return facefull of mud for Bob. The Maid of Honor, Catherine Crum, remembers the day they were engaged. Katie and Bob drove to a romantic spot in the hills overlooking SLO. Katie hands Bob a box and he says, "thanks for the truffle." But inside is not chocolate but gold. Thanks to Katie, they're now husband and wife.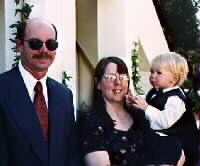 While we stuff down the food, the DJ starts down a list of golden oldie hits that keeps the whole place jumping for the rest of the night. June and I do a few numbers, even Mom and Dad get out there a few times. I got a chance to see Dick and Lynette from Cal Poly, haven't seen them in an age. Same with Ron Dahlin and family. In another small world occurrence, June sees a friend from work there. Lissa grew up with Katie's family in Campbell. We're also let in on a secret that another wedding is in the offing, but we can say no more here.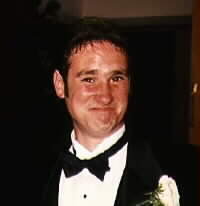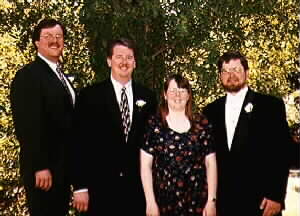 June and I are pooped out at 11:30 and beat a retreat to our room for a healthy snooze. We leave the crowd on the floor.
---
Sunday
Up for the free breakfast we find that we literally left the crowd on the floor. Almost as we left the ballroom on comes Wipeout and the entire party was down on the floor wigglin' like bugs on a hot sidewalk. Too bad we missed that. I'll close this dialog now with the breakup of the crowd. Most everyone is heading out of town by noon. Some are going on to other vacations, Frances has just finished one in Fresno. June and I are going to coffee shop it today. Word is in from Roger that Martyne is now cancer free! What great news for us all. They'll be back home in a couple of weeks. Rich and Jackie announce that Peggy is going to be hooded at MIT in two weeks!
Overall, another excellent trip for us. Family is healthy and happy, Nancy's new baby is on the way, a solid friendship has turned into marriage.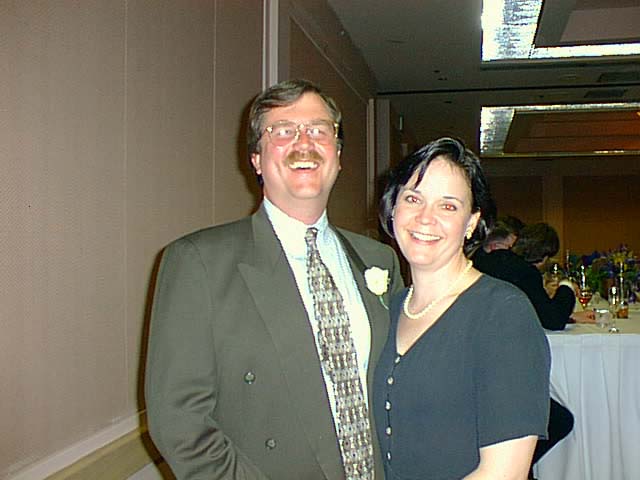 -end-