Radio San Francisco
When he retired, Grandpa Kolm had been working in radio for 40 years. I remember his stories of the earliest days in radio. When he used to look through a thick glass plate window at the transmitter. A big tube of mercury gas, heavily filaments, and high voltage. He used to tell us they were water cooled and if the plumbing ever broke there was electrical discharge like a spring sky in Oklahoma. Grandpa told of working the projector in a movie theater up North. When the carbon electrode burned down he had to adjust it with a screw while the movie was in progress. He started in Radio in the Pacific North West. He was a member of a secret union at a radio station in Portland and that got him fired. He got his next job in Eureka, so he told me, because they were looking for out of town engineers to bust up the union in their station. Little did they know...
When he retired he and Kay moved to a house in Seacliff, California where they had many happy years. Someday I'll add more here about their lives.
Some time ago Uncle Rich was contacted by John Schneider writing a web site about old San Francisco Radio. Some of his photos came from grandpa's photo archive. Rich sent me some more detailed information about Lee's early years in radio, and I've added them below.
Enjoy.
UPDATE: June 2009: the Summer 2009 Humboldt Historian (volume 57, number 2) has a very nicely written story about my grandparents by Suzanne Forsyth. Uncle Dave has a scan of the article on his web site. They used the photo below in it.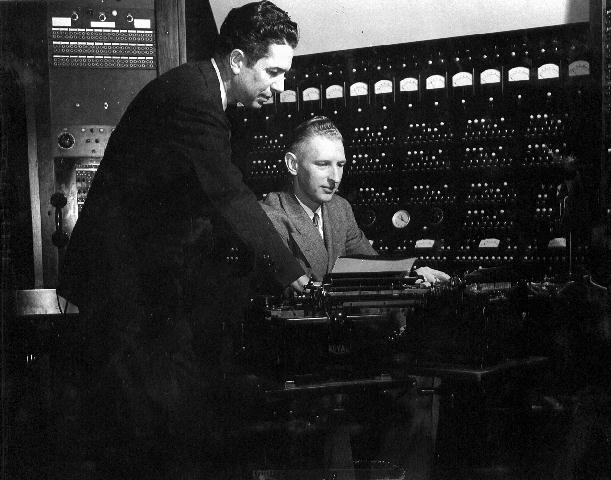 This is a view of the Master Control Room at NBC's Radio City in San Francisco, December, 1944. Standing: George Greaves, engineer-in-charge of NBC San Francisco. Seated: Lee Kolm, control room supervisor. (Courtesy of Rich Kolm, from the collection of Lee Kolm, deceased.)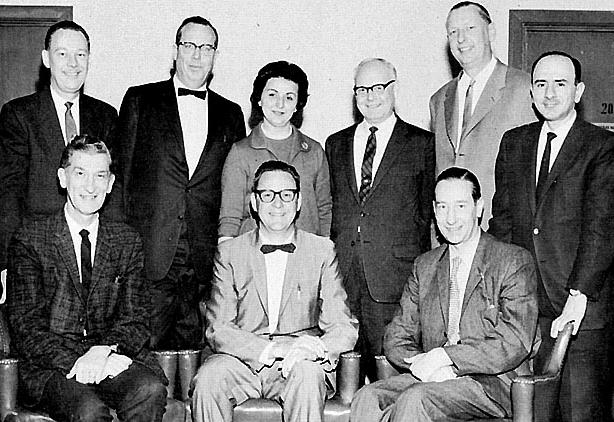 The staff that produced The Doug Pledger Show on KNBR in the 1950's. Seated, left to right: Clarence Leisure, announcer; Doug Pledger; John Grover, announcer. Standing, left to right: Budd Heyde, announcer; Jack Van Wart, engineer; Mrs. Doug Pledger; Oscar Berg, engineer; Lee Kolm, engineering supervisor; Shahan Alexanian, engineer. (Magazine photo from the collection of Lee Kolm, deceased - courtesy of Rich Kolm.)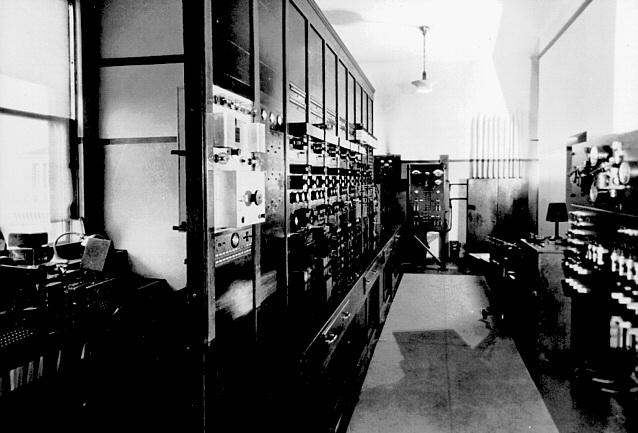 This Photo shows the west coast Master Control at NBC in San Francisco (22nd floor 111 Sutter Street), used from 1927 to 1942. On the left are amplifier bays with switching gear. On the far wall are generator controls with a cable cabinet. On the right is the DC switchboard, with the supervisor's desk beyond. Grandpa worked there from 1937 through 1942. (Photo courtesy of Rich Kolm, from the collection of Lee Kolm, deceased.)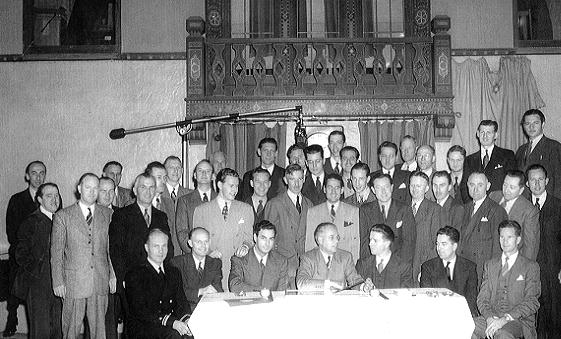 Announcers, Engineers and other staff of the NBC San Francisco operations, taken in Studio 'A' on the 22nd Floor at 111 Sutter Street, 1941. Grandpa is in the very back, just to the left of the boom stand.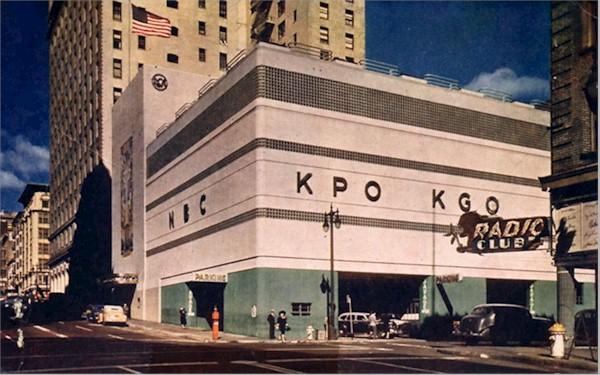 Here's a photo of NBC's Radio City when it opened in San Francisco in 1942 (at the beginning of WWII). NBC still had the Red and Blue Networks -- local stations KPO and KGO -- and San Francisco was still the center of NBC's west coast network operations.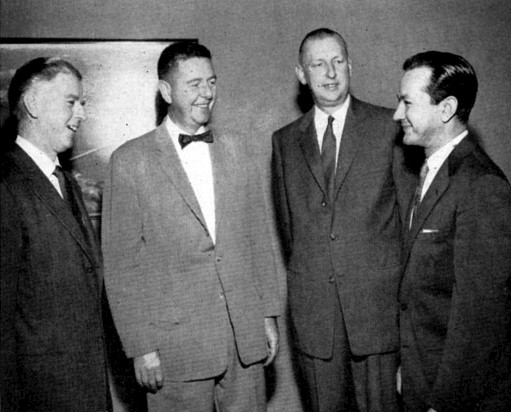 KNBC-San Francisco 20-year employees posed with the general manager in 1957. Left to right -- J. Alan O'Neil, engineer; George Fuerst, KNBC general manager; Lee Kolm, engineering supervisor; Juan Trasvina, engineer.
Here's some information about Lee from number one son, Rich:
Lee was born in Schuyler, Nebraska and grew up in Portland, Oregon. At Benson High School in Portland he got involved in radio and became a ham radio operator in 1928 with call letters W7WY. His first transmitter was built on a breadboard with the antenna wire looped around inside his folks' attic.
His career as a radio engineer began in 1931 at KEX and then KGW in Portland. (This is where the water cooled transmitter tubes were such a problem.) He secretly belonged to a union, which got him fired in 1934.
A friend working as an announcer at a radio station in Eureka, California knew he was looking for work. One afternoon in 1934 Lee got a phone call from his friend who told him a job was open and he could have it if he could be in Eureka by 7:00 next morning. So Lee and Kay left Portland about 2:00 PM and drove all night, arriving in Eureka about 6:00 am. (That was a long trip over some pretty poor roads.) Sheriff's deputies met them on the outskirts of town and escorted them to the downtown hotel, but they didn't know why. Station KIEM studios and transmitter were in the hotel, where they were also given a room. Then he found out he was hired because of the strike and to bust up the union in Eureka. The union was composed of one radio engineer who went on strike and left town. His first problem was to fix the transmitter that the striking engineer had sabotaged. Then he worked as engineer and announcer getting the station back on the air. Grandpa and Grandma stayed in Eureka for 3 years.
In early 1937 he got a phone call from the manager who had fired him in Portland, who was now a manager at NBC radio in San Francisco. He offered Lee an engineering position and Lee took it. San Francisco was a strong union town and past union membership was not a problem.
From 1927 to 1942, NBC's main west coast network center was in San Francisco, on the 22nd floor at 111 Sutter Street. Lee was a studio engineer and worked in the master control room. NBC operated KPO on the Red Network and KGO on the Blue Network. All program feeds on both networks up and down the west coast and to and from the east were handled in NBC's master control room in San Francisco.
In 1942, NBC opened Radio City at Taylor and O'Farrell Streets in San Francisco, where Lee continued to work in the new master control room, now as an engineering supervisor.
In the late 1940s the government forced NBC to break up. NBC kept the Red Network with KPO in San Francisco (becoming KNBC in 1947 and then KNBR some years later). The Blue Network became the American Broadcasting Co. ABC continued to operate KGO out of Radio City for a few years. Eventually, NBC shifted the center of its west coast radio operations to Los Angeles, but Lee decided to stay in San Francisco.
By the time Lee retired in 1972, KNBR had moved to the Fox Plaza Building on Market Street and no longer had a master control room for the network. Lee retired as a senior engineering supervisor after 41 years in broadcasting.