Books I can recommend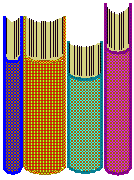 There's nothing like sitting with a cup o' joe and a good book in a quiet local coffee shop.
Perhaps Orchard Valley Coffee in Campbell, the Blue Rock Shoot (sadly, now closed) in Saratoga, or The Plantation in San Carlos. But only after the morning rush has gone by and the pace has slowed down.
All the books I list here are ones that I have enjoyed. I've put them into a few categories that I hope are useful to you.
Click on a link to the left, read a few, tell me what you think.
Side note: A number of the titles have links in association with Amazon.com Books. Buying the book here sends me pennies; I list the links not for the money but because when I first started this, back in 1997, it really was amazing. These days it is pretty passé. Ah well, so it goes. Read more about my Amazon experience .)