October 2007 - Pass Christian, Mississippi
Two years have gone by since hurricane Katrina decided to spin the wheel of fate with the lives of residents of the gulf coast. Everyone knows how New Orleans flooded when the levees broke; horrible stories.
Just 45 miles east of the big easy lies Pass Christian, or what's left of it. Pass is on a peninsula between the Gulf of Mexico and Saint Louis Bay. Katrina made landfall here and sent a 27-foot surge of water washing over the peninsula removing houses, buildings, trees and animals. Scott McPartland rode out the storm in this garage and shot some excellent video of the whole thing (looks like his video is no longer on YouTube - too bad, it's worth a watch.)
| | |
| --- | --- |
| | I think this is the Gulfport parking garage where Scott hung out during Katrina. |
We'd been talking about going down south to help rebuild for a while. It was hard for us to figure out how to go about it. Where to stay, how to connect with volunteer coordination, etc. Then in June she visited the San Carlos Chamber of Commerce booth at Hometown Days. The CoC was organizing a trip! Just what the doctor ordered.
Soon after Katrina did its damage, local San Carlos churches urged the CoC to get involved and they soon adopted Pass Christian. The CoC has sent donations of money and goods to help out. They've made several trips as a group, and this time they were heading down to build a house. We signed up. She would go for a week, but I could only get away for four days. I was worried that it wasn't long enough to make a difference, but the CoC group assured me it would be productive - they were right.
Thus it came to be that on Thursday I was in a small American Eagle jet plunging through thunder heads to reach Gulf Port. It had been a brilliant day of flying. Clear and so bright I had to keep my window closed. My eyes hurt when I looked out my window. Forty minutes from Gulf Port we buckled up, the steward locked herself into a seat and we went below a cloud layer that blocked out the sun. The whole world turned gray. It was like a decent into hell.
I arrived in Gulf Port where she picked me up. She came in last Sunday and paved the way for me. We drove down HW90 in the PT Cruiser slicing through the rain. At one point along the coast the rain became so severe we had to pull over while the worst of it passed. I'm talking about rain so heavy that even with the wipers on ultra high we couldn't see the road. Wow.
Eventually we found our way to the camp of Randys Rangers. As soon as Katrina was over Randy ran to the area to help in coordinating relief efforts. He stayed and set up to organize volunteer efforts in Pass Christian. Deborah joined in the effort and they were soon wed. Locals in need come to Randy's. Others with supplies donate to Randy's. Volunteers stay at Randy's. Randy and Deborah match all these up and keep the rebuilding effort running as smoothly as possible.



The afternoon I arrived
it was wet.


photo: Jim Lyons

The camp entrance.
| | |
| --- | --- |
| The kitchen and mess hall. | My dorm tent. |
Our assignment was to work on Andora's house in the west end of town. How bad was it? This is a photo from NOAA of Andora's neighborhood after the storm.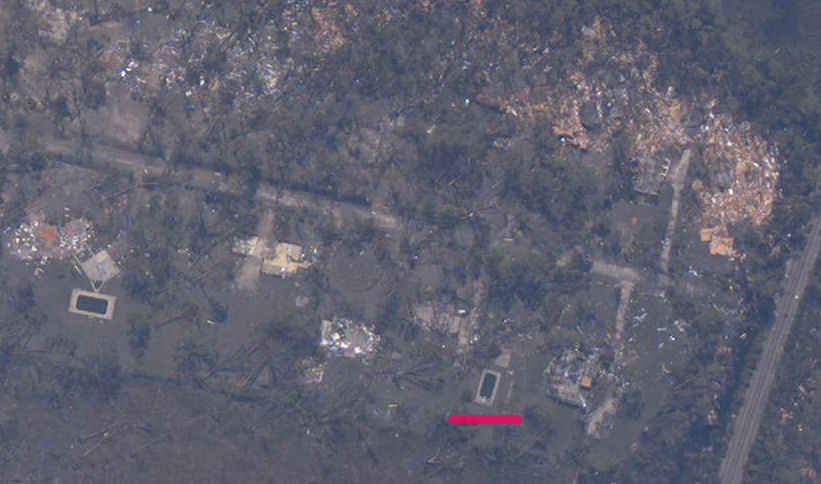 Andora is a sweet person who has been living in a FEMA trailer and is now getting a house built through Randy's Rangers. By the time I arrived the rain had stopped work for the day.
| | |
| --- | --- |
| Art from one of the previous crews. | A video of the first day. |
By code, all new houses have to be built on stilts. These will, of course, keep the home safe from future little floods.
| | |
| --- | --- |
| The FEMA trailer. Home for 18 months. | The new house. Soon to be done. |
| | |
| --- | --- |
| The mark of someone who is going to stay. | Our work site under the house. |
That first evening I was beat from the day of travel but the rest of our crew was beat from actually working a day.
Joe, sans Rhubarb, the
San Carlos camp dog.

Luckily Randy's stocks lots of Gatorade.
That night a group of 45 teens and their parents from a church in Georgia showed up. At Randy's camp everyone has to cook for themselves. The Georgians had a solid plan for meals and they graciously told us they'd feed us too! That let us get out to the job site early each day.
Randy's Rangers gets a lot of volunteers from church groups, and as a result the walls of the mess hall are covered with affirmations and exhortations to God and Jesus. "God makes bad things happen so that good things will happen," and "God always hears your prayers," that kind of stuff. You can see some on the walls behind Joe. Confronted with the covered walls of writing I looked for signs of other travelers. There was one small inscription of "Buddha Loves You", which had been answered with "My sister loves me too, but that won't get me into heaven!" The walls did not speak of tolerance. Without having thought about it I was expecting a more secular experience. But this is the South and religion is heavy down here. The people, God bless 'em, were all really nice to everyone. No one was actively pushing their religion; the walls were just a reflection of an important aspect of the lives of the people who have been volunteering their time.
That night the rain came back with a vengeance. Rain, lightning, howling wind. Our large, solid squad tents were shaking. Matt got up to let Rhubarb in and I could see the camp streetlights were just bright blobs behind the blinding rain. It was 2AM and the noise of the weather had us all awake. Then the power went out. To give you a little idea of what it was like I turned on the video camera. There's no picture, only storm sounds.
7:30 the next morning we were filled with pancakes and driving to Andora's. Matt was in charge of the site. I worked with him on the deck and a nice stairway that he designed.
| | |
| --- | --- |
| She did interior trim. | Sizing up the situation |
| | |
| --- | --- |
| We took an hour off for lunch at Shaggy's | Debby painting on high. |
Jim volunteered to work on another house
this day. They installed doors and windows.

Figuring out the landing.
The day was brilliantly bright, like one of the best days in California. Andora was around for much of the day. She offered us ice cream, cookies, water, and conversation. While Debby cleaned her brushes I noticed a whole group of beautiful orange butterflies behind her. That made me look around and see them everywhere. Once I knew to look, I saw Monarch butterflies all over Pass.
Andora told us that after Katrina it was deathly silent in the city. No animals, no birds, no insects. It took six months before the insects came back. Then came the birds. Nature doesn't wait for FEMA before moving back in. Deborah told me a similar story. After months of silence in town she was startled by the first sounds of birds chirping. At first the silence had been eerie; after months of silence birdsong was eerie.
We worked hard right up to 6pm. It felt great, but boy were we all beat. We showered and headed out to the Katrina Cafe for a quick dinner, then hung out in the mess hall until we practically fell asleep in our seats.
| | |
| --- | --- |
| She's beat. | He's beat. |
| A short video of us in the mess hall. | She's beat too. |
| He's beat. | I'm beat. |
Day 3 for me, we were back at it by 7:30 again. I needed a few Advil to keep moving smoothly.
The landing is making great progress.

Jim was with us today. Moving the
scaffolding was a big job in itself.
We hung a post and embedded it in concrete. It took 7 sacks, 4 more than we planned for.
Matt called it a "volunteer sized" hole.

Angela lost one of her lenses and decided to soldier on with the pirate look.
| | |
| --- | --- |
| Back to Shaggy's for lunch... | ...and a view of the harbor. |
| | |
| --- | --- |
| The view from Shaggy's looking West shows that Pass Christian is on a lovely part of the gulf. | |
She took a few photos of the inside of the house where the work was to get the trim installed.
| | |
| --- | --- |
| We managed to get the stairs almost done. | At the end of the day we each signed Andora's book of builders. |
We were double tired at the end of the second day of work. On a previous trip the Georgians had worked on Domonic's mother's house. Domonic is a local chef that lost his restaurant in Katrina. They arranged for him to cook dinner for their group - and us. What a fantastic dinner! Two flavors of jambalaya and a gumbo. Domonic showed me his pan of roux and it was quite different than what I've made. I thought roux should be black but Domonic says that's just burned roux. His roux was the color and consistency of dry peanut butter. And don't let me forget his bread pudding; it was the best I've had. Domonic claimed it was good because he didn't mess around with a perfect recipe.
Chef Domonic and his mom.

Deborah May describing the
jambalaya choices.
That was it for my work commitment and none too soon. I'd been working out at the gym pretty hard in the weeks before we arrived, but my body was still beat.
The next day we drove around and took in the larger Pass Christian area. The story of one house...
It used to be on top of these pillars, but now it is gone. It was either carried away by the surge, or damaged to such a degree that it had to be removed. Note the bent satellite antenna on the right.
Looking through the growth, a pool appears, but it has been years without
maintenance. You can see this pool in the aerial photo above of
Andora's neighborhood - note the pink line.
The house across the street is rebuilt,
but brick rubble from this house is in
the foreground.


Photo: Jim Lyons

Another house, still waiting for repairs
We were told that the area where our camp is used to be a beautifully kept neighborhood with well manicured lawns and lots of trees. When the 27-foot storm surge came over the land it was cleared.
| | |
| --- | --- |
| No mail here. | This is what's left of that house. |
Now it looks like a subdivision where the developer ran out of money. You know that view - cleared land with roads and driveways, maybe even pads for houses, but completely overgrown with weeds.
| | |
| --- | --- |
| And another. | Here's a short video of what it is like to drive by these foundations. |
In fact, the whole row is gone.


photo: Jim Lyons

Waiting for the rebuilders. Will they come?
This NOAA photo from just after Katrina shows the current Randy's Rangers camp area outlined in pink. Those house foundations I just spoke of? Look in the upper left of the photo below.
So, two years later how much has been rebuilt? Here's a photo montage of the satellite view from Google Maps. You can see that the rubble is gone, but there is very little rebuilding. Those tents on the lower right are the Randy's Rangers camp.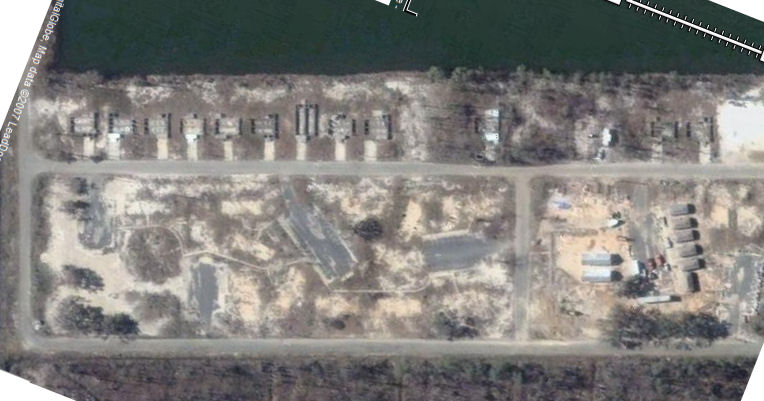 Jim and I walked this area. We saw the usual debris piles of an old disaster that's still being cleaned up. Most of the big damage has been carted away to a huge landfill. Buried away from memories. One large area used to hold apartments. On the ground it looks like a field of weeds with strangely placed parking lots. In this aerial view it's easy to see the light brown pads that used to be the bases of the apartments. From a distance the land seemed to be cleared, but as we walk over it we still manage to find disturbing signs. An old boot here, a wonky stop sign there. On one lot I find an tattered Beanie Baby under fallen leaves. On another I come across an IV carriage tipped over, half buried in mud. It's clear to me that this land hasn't been cleared in the last two years. These little things are sad reminders of the scope of the disaster.
Scenic Drive in Pass still shows beautiful houses of the South. These places are across the street from the beach, but up about 10 feet above sea level. Debby saw them just six months after Katrina and they were heavily damaged. Think of the water flooding halfway up each of these while the 175 mile per hour wind blew out the windows and ravaged the upper floors. They look sweet now. The road in front of them is full of cracks and large pot holes.
| | |
| --- | --- |
| While just down the block it looks like this. | Bay St. Louis Coast drive by |
| | |
| --- | --- |
| Where's the rest of the bank? | Pass Christian is on the other side of the bridge. |
According to one article, Katrina killed 9 people and destroyed 2600 homes in Pass Christian. To date only 800 homes have been rebuilt. So many lots are for sale. Coastal plots have big For Sale signs. One said "180 feet of beach frontage only $589,000". Two blocks back from the beach the signs are smaller and just say "Lot For Sale". It looked like they had been advertising for months. Every once in a while a competing sign of the same size says, "House Being Built". While those signs are promising I saw very few that were backed up with an actual construction start. If you want to get an idea of the scope of the damage, here are two ( A, B ) more extensive aerial photos from NOAA right after the storm. Bring them up in your browser, zoom in, and then just roam around in them looking at the missing buildings and piles of debris. Piles of lives. (The NOAA site is also excellent, but very depressing.) Without a tax base the city itself is struggling to remain alive.
So why is the coast still unrepaired? One local told us that FEMA offered him a $10,000 grant, but that wasn't nearly enough to rebuild his home. Then they offered him $60,000 if he'd move to Florida and give up his land - his home. He grew up in Pass, his friends are there, his family is in the area. He didn't want to move to Florida. Once he told FEMA that he said it got very hard to get any more help. They told him he was "being difficult." He thinks our government is making it as hard as possible for him and others like him to stay in Pass. It would be political suicide to suggest that as a country we give up on the area, so instead they just make it impossible for anyone but the rich or the madly determined to persevere in rebuilding.
A train runs through one side of Pass Christian; we heard it every night and every morning. While we were there posters around town advertised a meeting to discuss a Corp of Engineers plan to build a levee next to the right of way. The implication is that any house between the train and the shore would be expendable. You can imagine how that upsets a certain set of citizens.
On one side of the debate are the people who want to stay. On the other is the knowledge that warmer seas are bringing stronger storms. Control of the Mississippi River has reduced the delta barrier that used to knock down storms before landfall by denying them the energy of deep warm water. We can be sure that new storms will send more huge surges to this area sooner rather than later.
I saw the remains of houses that were built on stilts just as tall as the ones that we were building upon. Only the stilts remained after Katrina. Did I just help to build a house that is going to be wiped out in a few years? Quite possibly.
When I first arrived I thought we should all call congress and demand that our country rebuild Pass Christian more quickly. If we have the resources to wage a massive war, we certainly have the resources to rebuild a few thousand houses. Now that I've been there I'm not so sure. Maybe it's right to discourage rebuilding by all but the hardiest of souls. Maybe our government does need to make these hard decisions.
For me, I've decided. While there is a valid debate over what our collective government should do, it's clear what I as an individual should do. Helping rebuild Andora's house was the right thing to do. I choose how I spend my energy, and helping another human reclaim their home is the right thing to do. Perhaps the building of these houses will become a personal mandala, washed away in some future storm. So be it. The journey is what's important.
On our last drive out of camp I saw a man tending his property. His house was gone, replaced with weeds growing around a slab foundation. There was no delineation between his property and the next; nature was reclaiming it all. His car was parked next to the slab. He'd set up a folding chair. A white cooler sat by a front tire, a can of Coke on the ground. Next to that, a red plastic gas can with a yellow spout. He'd fired up his gas lawn mower and was determinedly mowing his yard. He was set amid a row of missing houses, but he was not giving up. He was reclaiming his property - his place in space. I know that if he asks, I will help him rebuild his house too. We have to go back. Maybe you should come with us.
-end-