No, it's not some ten step program. It's the old boys club doing dinner with the young women (or something like that).
Years ago we had a book club with some friends from HP. Vance, Carson, Jon Goulden, Louise Otto, Susan Bockus, Carol Olsen, Dianna Disabatino, Joan Bodway, Sandra Iwamoto, Sharon Jacobson, and many more that I can't remember the names of right this second. We'd read a book every month and then meet to discuss it over a potluck dinner. That was the way of the mid 1980s.
It was tough to keep up. We had a rule that to recommend a book the person had to have read it first (and no more self-help books). So in addition to the book of the month, we each had to read other books so that we could recommend them to the group. On top of a go-go work ethic, it was a strain. There were even a few - who will remain nameless - that would read the Cliff notes instead of the book. A smaller few took an odd pride in not reading the book but still enthusiastically discussing it.
As you can imagine, the process broke down. Somewhere along the way the book club shrank to just a few, then we started to get together for dinner and just talk about books in general. Then someone suggested meeting at a restaurant. Then one day no one had read any books that month. Joan and I both had tickets to the SJ Rep and we moved out tickets to the same evening. Then there was no book club, just the eat before the SJ Rep club. And that club is now growing! Sandra, Joan, Angela and me are charter members. Kathryn and her mother are at the Rep and we sometimes see them at dinner. In 2005 Rob and Julie moved their tickets to join us. In 2006 Steve and Mickey joined the Tuesday night crowd. One day it might be as big as the book club.
What's the supper club? Back in 1999 a splinter group formed. Carson is a fantastic cook and Edie had designed a new kitchen for him. They started having us over to their house once in a while. Janet and Loraine worked with Edie. Vance and I were single. It was a three on three club and we had tons of fun. Every month we'd take turns hosting a meal.
We did several things to add interest. One time we all drew a letter from the alphabet and had to use that for a theme. I remember having "V". I ended the dinner with Vianetta and Vantage cigarettes. One year we found that having to make dinner for everyone was quite a strain so we moved to themed pot lucks. One memorable evening was "Road Warrior."
The photos below were from an early dinner (when I still had my first 1M digital camera). I think this was the time Janet burned the mac-n-cheese.
It was Edie's turn and she did a wonderful dinner with Janet.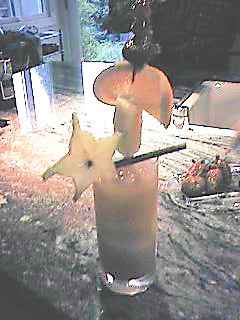 Caribbean drinks were the start, and were almost the end of us. I had one, a bit on the fast side, and was blasted. Not too blasted to have a beer, but blasted none the less.
Salad was an interesting combination of greens with a home made herb dressing. Then came marinated chicken with asparagus spears on a bed of lemon grass humus. It was incredible. We wrapped up with hazelnut French toast. Quite a feed from two who claim they don't ever cook!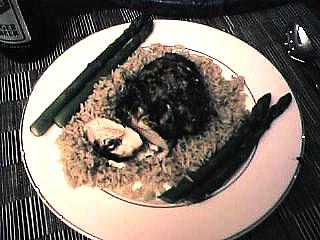 Things change. Loraine moved to Sacto. I found Angela and she joined as the 6th. Eventually we were all busy and said - you guessed it - "let's meet at a restaurant this month." We've now spent many fun years finding little restaurants to serve us. Some notable ones:
Vietnamese across from the Pruneyard in a little old house.
Cuban in downtown San Jose with black velvet Catholic art on the walls
Poor Boys Bistro for the BBQ shrimp
Yeung Li's Fusion in the Campbell area
7 in downtown SJ with fantastic food all around, but a fake trendy atmosphere
Philippine food in Mt. View
Jumbo's sea food in San Jose