Before

Angela's Kitchen

Against the sage advice of several friends much wiser than me, I undertook the remodel of a kitchen belonging to a certain angel I know. Perhaps she had me under some spell, but as you'll hear, her powers extend over many. This is the journal of our feat.


After
2/16/99:
It's Tuesday. Me fat. Once again I'm not in 'Orleans. I am as sore as if I'd been there. No headache, but my legs are a mess o' pain. Last weekend we ripped out Angela's kitchen. Sean, Jennifer, Mark, Cathy, Leonard, and Dave all brought hands to the table. The old cabinets were ripped out toot sweet.
Jennifer, Cathy, and Angela assembled a couple of cabinets.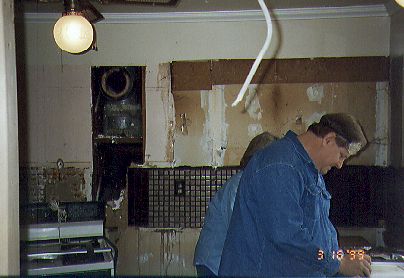 Along the way we found several surprises. Behind one wall cabinet was a small yellow plastic pouch filled with some loose material - tobacco. In the back of one base cabinet was a shelf no one knew about. On it was a fondue pot - avocado colored. Behind one base cabinet was a space. There we found a tin of sardines and a can of Campbell's soup. The soup can contained a dry mass that rattled and sported a "sell by" date of 1967! Lastly, under the floor boards, we found an empty bottle of cola.
"Under the floor?" you ask. Yep. Unfortunately an old leak under the sink made it necessary for Sean and I to take it down to the rafters on Sunday. We were pretty smart, I think, to cut out the floor in a 4x8 square. It got rid of all the damage and made it easy to just drop in a couple of sheets of wood goods to close up the incision. Angela and I finished up Sunday with the placement of pink insulation into the exterior walls.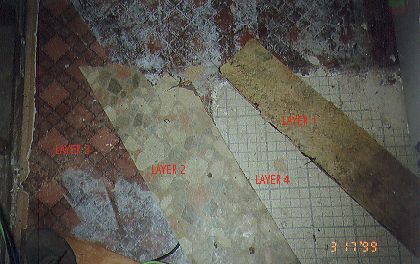 We found six layers of beautiful linoleum. Here are four.
So, here I am. Sitting in Atlanta, contemplating Fat Tuesday, and nursing my hurting legs and shoulders back to health.
2/26/99:
The kitchen saga continues. Hats off to Nancy and Jim who just laughed and laughed when we told them it would be a two week project. At least we're now in the put-back stage. The floor has the regulation covering of 3/4 inch plywood - and about a million screws. Every time the floor squeaked we drove in one more screw. I think we made four trips to Home Depot for screws.
Last weekend we put the first crown molding onto the first assembled wall cabinet. This one is going up against the ceiling so we have to get the molding on before it's hung. The problem is not typical as this is a corner cabinet with angles of 135 degrees instead of 90. Angela and I worked the problem over with my Stanley mitre box until we'd (I'd) burned up a $15 strip of crown molding, all to no avail. Bob came by to give it a try and I threw up my hands in disgust with myself as he and Angela began again.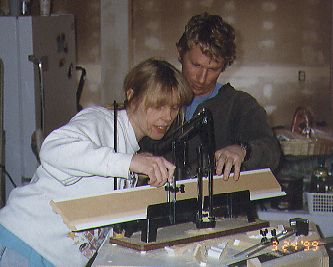 They were figurin' and calculatin' and tryin' it here and there. At last they made it fit and mounted it. Man, it looks just great. I hope we've learned enough from that to be able to do the next ones faster.
3/2/99
And now it goes back! Last weekend we really rocked on the kitchen. Primed, painted, assembled. We even braved the fire and put down sheet vinyl in the kitchen. We used four times the recommended application of latex adhesive, but we didn't put it on thick at all. Who knows how to do it right?
A ledger board on the wall and - kazam - there are cabinets screwed into the walls and the floor. Of course with the cabinets up we couldn't get the screw out of the ledger board. It was some kind of geometry problem. Sean solved it with a bigger hammer. Thanks to Chris for her help too.
Well, I hope that next weekend we can reclaim the living room.