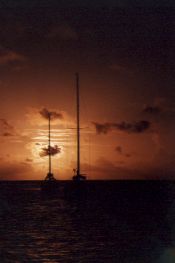 I just got back from a week sail in the West Indies. Went with Greg as skipper and Suzanne as #1. Ellen was along and Casey with her fiancée, Raymond. Greg's brother Doug and his wife Dana rounded out the crew.
We set out July 4 from St. Lucia after taking Greg to the hospital because he peeled off a toe nail loading the boat. We were on a 50' Benetau. It was nice, but not as well proportioned as Rich's boat was in Greece. Dual wheels, electronic auto pilot, GPS, cell phone. The GPS was cool; we didn't know until the last day that it contains an "anchor watch" function: sound an alarm when the position drifts more than x nautical miles. I think Greg would have slept more soundly if we had found that function earlier.
We spent four nights at Tobago Cay. It is a fantastic uninhabited set of small islands in the middle of a beautiful coral reef. We snorkeled in some awesome places.
Last three nights were spent in the Secret Harbor hotel on Grenada. Got some nice tours of the island and brought home a load of nutmeg.
The Yacht Wind Seeker and her brave crew

Here we are on the first day before leaving the dock.

Greg and Suzanne at the wheel. (Apparently for safety considerations, while under sail they never look at the camera at the same time so this is a composite of two images. ;-)

A typical day under sail. The auto pilot let us get a lot of sleep.

The Man himself skippering the dinghy in Bequia harbor.

Doug and Dana relaxing.

Ellen and Casey - just another typical night aboard Wind Seeker.

At Tobago Cay we had a beach party to celebrate and eat the 30 pound dorado that Loretta caught by hand! Here is the flotilla skipper Cosmos, with machete.

Wind Seeker at rest.