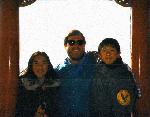 Jason, Theresa, and me on a boat on the lake at Nanjing.


I wish I could take credit for some great shots, but the gardens are designed to yield fantastic, serene views. I just point the camera and click.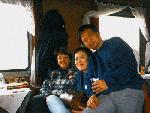 Kae (my friend), Suzanne and Danny, long time friends. Here we're on a train between a couple of cities. The train cars we were on were well equipped and comfortable. Each car had an attendant with hot tea and a guy selling sweets. Of course, we were not traveling coach...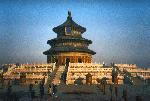 At sunrise one day we were walking through the Temple of Heaven in Beijing. Our breath hung in the air, sometimes masking the bright colors of the temples as we moved from one round stone dias to the next.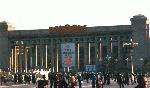 In Tianamen Square I looked around and thought, "here is where it happened." It's a large square, larger than I imagined from the news reports. There is space for tanks, troops, and people.
Along one side you see this view. If you look close you can see the large sign with digital count down clock. It's ticking off the seconds until "we are reunited with our brothers in Hong Kong." It looks like one big advertisement that says, "we haven't forgotten."

The Forbidden City is immense. All over China I'm struck by the size of these places; I say, "places" because these are each big enough to hold their own space on a map. Built in a time when labor was cheap, those in power built mountainous monuments to their greatness. We walked inside these walls and were lost.
Sunrise inside the Forbidden City brings wonderful backlight to tremendous architecture. Each turn, each path, each doorway reveals another nook. In each one the Emperor and family lived a life of seclusion.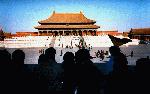 This is perhaps the classic view from the movie The Last Emperor. We walked across these stone steps, treading on the central marble path reserved for the Emperor alone. It's a long walk to the first building, you can see it in the distance. Yet, this is only one tenth the depth of The City. When in use it held the Emperor, his extended family, advisors, and 2000 troops.
The Great Wall. What else can I say? We walked further than anyone else in our tour. In fact I stopped after a run of particularly steep and slippery steps. Kae went on like she was possessed. I lumbered up another quarter mile, and still she kept climbing. At last I sat with my back to the mountain and the falling vista in front of me. Our tour busses were small as grains of rice. An incredible sight.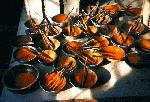 Tri-color glaze is almost spooned onto ceramic horses of all size. Meter high horses sold for only $300; shipping to US, $100. I wanted one but where would I put it? Kae and I split a set of six different five inch high horses. One sits in my living room. Every time I see it I go back to China.

Guillin is famous for the smoky limestone mountains (karsts) that are featured in so much Chinese art. Next time you're in a Chinese restaurant, note the watercolors on the wall. Those black mountains covered in mist? Guillin.
Here we have Vanessa, Wilson, and Warren posing for a photograph with a tame monkey in front of Elephant Rock. Unfortunately the trainer abused the monkey when he didn't perform. It was not a pretty sight.

We stayed in some fantastic hotels. China considers them to be four star. These were not on a par with the four seasons, but were a big step above most Hyatt Regency hotels. This is a close-up of a five story high red lantern Christmas tree in the lobby of our Guangzhou hotel.
Back in one of my favorite places, Hong Kong. Kae cleans the streets in an act of civic pride. What a blast of neon.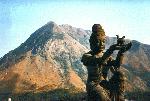 And we end at the "world's largest Buddha," a 45 minute air conditioned bus ride from the port on Lantau Island. It is a magnificent setting. As you gaze upon the statue remember to read the fine print... "largest sitting, outdoor, bronze Buddha." I guess the Lantau Chamber of Commerce wrote the brochure.