Back in 1991 my buds and I spent three weeks traveling through East Africa. I traveled with Steve Young, a brash high tech marketing guy and experienced outdoorsman, Sam Quesada, oxen-like in his ability to stoically withstand extreme hardships and a consummate negotiator. Lastly was Vance Ikezoye, the nominal leader of our expedition. At the time of our trip Vance was the vice-president of sales, or marketing, or travel. Vance did most of the leg work to get us going. I could say more about myself, but since you're at my web site you may already know more than you want to about me. Suffice it to say here that I was the soft guy the guide expected to carry down before I made the top. Please note that in the end I stood on the highest point on the equator; fooled him!
At some point I'll add more pictures and the narrative to go with them. Until then I'll be brief. Lucky you :)
Any trip to Africa is a long one and ours was no exception. Vance slept the whole way, Sam read, Steve was also out, and I passed the time looking for holes in the plane's structure.
Out of Nairobi we took one long cab ride to the border of Tanzania. At this desolate outpost of humanity we spent our time waving off the Masai women selling beadwork while Vance tried to negotiate a good deal for a cab to take us into Tanzania. Our cab from Nairobi roared off and it was hard following Vance's instructions to look uninterested in the negotiation. I'm sure we paid too much, but what could we do?
In Arusha we met the agents of Overseas Adventure Travel to start a seven day safari. Our beast of burden was a modern English lorry made to hold twenty people in seats, eight feet off the ground. This machine and driver were equipped to drive us across Africa if needed. Huge and a dingy mustard yellow color it became a welcome home on the road in the days ahead.
In the future I'll say more about our slow grind through the Selous plains, Olduvai gorge, and many nameless places. Even some thoughts on eating dinner while lions prowl the perimeter of the camp. What do you say when the cook comes running into camp laughing because he had startled a lion? "Ha ha?" More chatter as I scan photos to support it.
Anyway, I want to take a taxi to Moshi, Vance convinces us that we have to travel "native" and take the bus. Besides, "the bus is only twenty five cents!" This is a recommendation? More to come later, but suffice it to say that all four of us were the target of bold and brazen pickpockets yet arrived intact in Moshi.
We hook up with the guide company and begin our walk up Kilimanjaro. We start in Moshi at about 5000 feet and do a leisurely ten miles of hiking a day as we move up in elevation. The first night at 8000 feet is fine. The food is gruel and a little piece of rotten meat. I think I can see hair on it. The second night we're in large communal cabins at 12,000 feet. Here the camaraderie with other hikers sets in.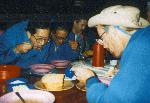 We sit in the large a-frame mess hall chatting amongst ourselves and fielding an occasional question from others. Dinner here is the same, only worse. We meet a couple from the states who are working for the Peace Corps in a small town in Tanzania. As we get to know them we find that the woman worked in Yellowstone national park the same summer, long ago, that Steve worked there! Strange but true. Of course she was a ranger and Steve a housekeeping maid. (Ask him about the late night requests for extra towels.)
Day 3 is very gentle hiking through desolate wilderness. In many places we follow a trail that is just a light colored path through nearly flat desert terrain. While each camp is filled with people, the trails are quiet and private. Perhaps the guides all conspire to keep us apart, but we see few of our fellow travelers on the trail. Occasionally a porter runs past us with a pack on his head, but that's all. Still,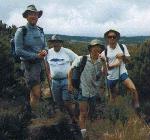 we are enjoying ourselves.
At noon we get our first peak at the top of Kili, miles off in the distance. By 5 PM we're stopping every quarter mile to catch our breath. Each step takes a breath to complete. We're walking painfully slow, but this is the pace it takes to attain the top. In a dormitory at 17,500 feet I try to read but find that I keep re-reading the same paragraph over and over. It's no use. Lack of oxygen has fried my brain. Sleep is fitful. Periodically I'm awaken by heavy footsteps and a door slam as the Australian fire fighter runs out to heave his guts in the dark. He's in excellent shape and has been hiking the mountain as if it was at sea level. Now he pays. Studies have shown that personal fitness has little correlation to altitude tolerance. The key is a slow ascent with time to acclimatize. On a trip like this we only have 3 days to get from 5000 to 18000 feet and the trick is to go slow. We don't see him again, his guides make him descend.
Up at midnight we move like zombies. This is the time to wear ALL the clothes we have.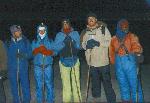 Cotton underwear, polyprop long johns, wool sweater, down vest, windproof overcoat, hats, and flashlights. We assemble in the dark with our guides.
Now begins the torturous scree climb. The last several miles and 1000 feet are the steepest in the entire trip. We can see severe switchbacks far up the mountainside. Here the ground also works against us. We walk over fine loose rock. Every third step slides back a foot. Each step is a concentrated effort. Step, breathe, breathe, breathe, step. We need three lungs full of air for every step. I enter a semi-trance state by counting my steps. I can remember getting up to 10,000 and still not being at the top. This last hike takes five hours and we reach the summit in time for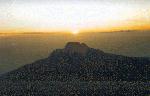 sunrise. A glorious sight. We sit on these rocks and watch the sun climb slowly over the second, smaller summit. Intense yellow light streams from behind Kili-2 and fires the mist that lounges in the saddle between peaks. The intensity builds as this color grows to burst directly over the second peak in a show of blinding light. And then it's over.
Sunrise can seem to last for hours, yet once the sun is fully up it literally jumps the next 30 degrees into the sky. Too fast our guides are urging us to start down. We have a long hike down the scree slope, a brief rest at 17,500 and then on the ten miles to camp 2 for the night.
There is much more to our trip. More long distance taxis. Nights in Mombassa. An altercation with the police that had me singing, "Send lawyers, guns, and money." A train trip with more silverware than I've ever seen before. And brief flirtations, UN-desired, with prostitutes in a Nairobi nightclub.
So, as more pictures come on line my story will grow.
As always, email me with comments, corrections, spelling and grammatical points to discuss...