November 29, 2009
The year continued to have low points - our friend Deb passed away after a long illness. I can't say here all the good things she is, but we are missing her. She was a very special person.
The Makers Fair at the end of May showed me again how creative people can be - and that I need to get on the stick! I eventually bought an Arduino microprocessor kit and got down to business. My plan was to do the equivalent of "hello world" with every input and output device available. Afraid of my soldering skills, I spent a few extra bucks for the pre-assembled board. With the supplied free software I was able to get it to talk to my PC quickly. Wow, that was a blast. Blinking an LED caused me to wake some long dormant electrical classes; I prayed the first time I turned it on: "please don't blow up." Potentiometers were also easy, but I made a few blunders and needed some help before I got it right. (I've documented that here.) Since my first turn-on I've been able to position servo motors and I have it talking to the web. The question is now: what next? You might phrase this: so what? I don't know either - stay tuned.
She had a bit of simple knee surgery before the summer. In and out in a few hours. It gave me a chance to compare the local hospital she used (a well respected one) and the Kaiser facility my dad used last November. I think the care at Kaiser was just as good as the non-Kaiser place. Both were staffed with competent, caring people. Kaiser had a lot more signage for the patient - "It's ok to ask your doctor to wash their hands"; "If you have an issue with your care, call the ombudsman at: xxxx"; "Please fill out a survey to let us know how we're doing"; and, my favorite, "Gel in, Gel out" (a reference to the sanitizing gel stations so prominent at Kaiser). One could speculate that Kaiser needs this signage; I prefer to think they are just being very customer oriented. Bottom line? I'm very comfortable belonging to Kaiser.
We were happy to have Brent, Ray, and Richie staying with us several times this summer. We try to have a dinner or breakfast with Brent and Ray when they are around. We have yet to get them both in Saratoga at the same time. With Ray we've been back to Casa de Cobre the superb Mexican restaurant in downtown Saratoga and I've become addicted to their entomatado - a rich spicy dish of braised meat and chipotle peppers. They also have a chile relleno that is stuffed with pork and roasted pecans.
Brent took a fabulous cruise up the coast of Norway.
The complete 12-day round trip journey takes you northbound from Bergen in the south to Kirkenes in the north, close to the Russian border, stopping at 34 picturesque ports along the way.
It's the old coastal mail route and the photos Brent showed make me want to go too.
Richie has been doing a lot of library lectures and we try to see them when he's local. The last few times he's stayed with us. I enjoy having a cup of coffee with him at the BRS in the early morning. Richie's new book on the Velvet Underground was released and we met several interesting people at the publication party. I listened in to a discussion of some obscure points about Exhuma, an early voodoo rocker.
The youthful Jen Vanya turned 40 this year and hosted one cold party in the fog of the Half Moon Bay state beach. We were early and stopped by M Coffee on Main Street in HMB. The coffee was good and we found that Nina Miller was exhibiting watercolors! We know Nina and Clint from San Carlos and I have one of her paintings in my home. It was a treat to see all her work displayed. Parking at the beach was full, of course, and my car went back a half mile down Kelly street. I parked in a field; the sign said to pay $5 inside Andreotti's barn market across the street. Acting like I knew what I was doing I fondled the produce and picked up two bales of Swiss chard. I placed them on the counter. When she asked if that was all, I tried to look hapless and said, "oh, and parking." "Great, that's five bucks," she said. "That's the best Swiss chard you'll ever have," she smiled as I walked out. Damn, I was hoping the purchase would suffice. I dropped the chard in the back seat, knowing that the ice cold weather would keep it fresh.
Once at the party we were perched atop the cliffs and it got sunny as the day wore on. Jen's family and friends can throw a shindig. Kids were running everywhere, the cake weighed a hundred pounds, and we managed to visit the small natural history museum on the grounds. Our trip home just managed to avoid a later accident on HW92 that snarled traffic for hours. Ensconced at home later Angela quizzed me on the chard and we shared a laugh. However, when we cooked it I have to admit that it was the absolute best chard I've had in years. We'll go back to get more.
Reynold and Lori have also been in town a couple of times. Sometimes work, sometimes property management, it's always good to share a meal with them. In November we caught up with them in San Carlos. There's no kitchen so an eat out was always the menu. Rob and Chris came up one evening and we had another excellent dinner at Spasso. I passed up the excellent, but huge, pork chop in sour cherry sauce and instead enjoyed the cannelloni. The ambiance is nice and it was a quiet night there this time. I've noticed that in this economic meltdown many restaurants are slow. We used to wait for a seat and then see others waiting as we leave. Now we get seated immediately and by the time we leave other tables are empty. It seems like instead of two sittings a night they get only one. That cuts top line revenue in half. I sure hope the good ones remain after this is over. I've seen the Istanbul is now closed. So is Good Taste Chinese (although it was not on my favorite list). And I've heard that Rumi's is doing poorly - but that may have more to do with the reworked menu. Someone mentioned trouble at Ciao Amore - what we call "loud Italian." The new all black and brown mysterious sushi place is already closed. Hmm. With the exception of the Istanbul, maybe it's just the ones with some problems that are closing. I hope.
The remodel at Elm Street took it offline for almost four months. The toilets were pulled the first week of July and only came back online in time for our Halloween party. Taking the kitchen back to the studs showed that critical joists for the upper floor had been almost cut through by some previous, incompetent remodeler. The chimney removal went smoothly and that's that. Then came the slow process of rebuilding, rewiring, replumbing, and new ducting. As I write this things are coming together. The kitchen base cabinets are in and the counter-top people will measure tomorrow. It is looking fabulous; see for yourself.
Just as the demolition began I took off for the North. Jon and I spent a week with the Marriers pulling big Walleye out of Indian Chain Lakes. We arrived at the end of the mayfly hatch so the first day of fishing was disappointing. However the next day things picked up and we were hauling them in again. Jon wanted variety and managed to pick up a couple of very good size muskie. I caught a small perch and a small mouth bass as well. To our surprise we found that the small island near the cabins offered some excellent fishing; in past years we have motored past them. I had new wet gear this year but didn't have to use it. There was no repeat of the previous deluge. Peter also arranged for KC Landing to rent us the big house. Five bedrooms, a large great room, floor to ceiling windows and a good sized kitchen made this year's trip an exceptionally good time.
We made it a double header when Pete, Kim, and Lydia all came to the Santa Cruz mountains for an Ethiopian retreat. Bob and Katie were up that same weekend so for one hour we had a passel of people in Saratoga. I was showing off my Arduino project and complaining about the debugging when Bob made the observation, "there must be some way to write to the serial port" and I said, "I wondered what that little button in the IDE was for." Bingo, my projects started moving much faster. (And a tip-o-the-hat to Gary for his advice on potentiometers.) Eventually Katie's cousins from Italy showed up and they all took off. I spent a day at the Tech Museum of Innovation and Vasona Park with the Marrier clan. The Tech had the most interesting exhibit. It would scan your head in 3d and display it on a workstation for some basic manipulation. That was cool. Cooler still was having Pete and Kim recommend a book to me before they took off for a walk in the park and having downloaded a sample and read it before they got back. Oh, did I mention my iPhone?
God am I in love with that device. This may surpass ReplayTV as the digital device of a life time (or is that life style?). In any case, after buying the iPod touch in April so that I could be as versant as a 12 year old, I found that it was just a small taste of a drug I needed. I did the fishing trip without my laptop. The wireless access was reasonable and I found that I could web surf and email on the iPod. Jon showed off all the advanced features of his newest model iPhone and that made me realize that I needed one. I wanted to do all that without the need for a Wifi hotspot. I wanted to do it while someone else was driving me down HW101. I wanted to do it while sitting in the park. The week after we got back I bought it over the internet and had it in hand by the end of July. A 3GS. OH MY GOD. In the last three months it has barely left my hand. So many people have written about it, that I won't repeat their platitudes. For me the iPhone is the perfect intersection of portability, connectivity, and presentation. People complain that it's not a good phone; they are missing the point. This device is now my ebook reader (yes the small screen works beautifully for this), email client, GPS device, portable camera, stock tracker, and general advice provider. Who knows, I might even buy an Apple computer because of this thing.
I was back in town just in time to get the Saratoga deck replacement underway. The original construction of the cantilever decks sucked. The joists were doubled up 2x11's. They were not pressure treated. Nor were they primed. There was no flashing at the top. In the end they rotted from the middle out. When HBQ Construction took them down it was scary to see just how bad they were. I took a lot of photos of the rebuilding. And some video of the big steel I-beams sliding into place. In the end we have a set of beautiful new decks that will last a long, long time.
Another two-fer came up with Bob and Carolyn. They were out in Twain Harte for the month and we spent the first weekend with them. TH is such a relaxing environment. They were gracious hosts and we spent one night at the concert in the park catching up with their friends. Then in November we hit the bourbon trail to visit Maker's Mark. Paul's ambassadorship required a visit to the home office, which he has documented. Bardstown has the oldest framed building in Kentucky as well as some good old down home cooking. The civil war museum is top tier and worth a visit. We almost stayed at the B&B next to Maker's Mark. Turns out that is in the middle of nowhere. Good for one night, but not for four. That was a close call.
I remember when Wilson Wong was born. It was quite a thing in those days for the boss to have a baby. Then Warren. Then Vanessa. Then he gets married. What? How old am I anyway? Pretty old. It was a beautiful wedding and the dinner reception was at the Los Gatos Lodge. The setting was perfect with tables under white tents. But then it got unseasonably cold. One of those arctic air masses that we see every so often. Man it was bone chillingly cold. Men in jackets were fine; women in skirts and heels were not. Angela, always dressed for warmth, was fine. I made a trip to the car for the two wool picnic blankets. One I bought from Lands End and one was given to me by my grandmother 30 years ago. Despite initial protests, two couples at our table eventually took them to wrap up. We sat next to Danny's niece and her husband, two dentists from Grand Rapids. Really? That's where Bob and Carolyn live. I whipped out my trusted iPhone, brought up Google Maps and she said, "why we live right - swipe, swipe - here!" They live only a mile from B&C. How freaky is that?
The Girls and Lon had another poker night and Sally invited more of the men. "It's not a dinner, we're going to play cards," her email declared. And so we did. Nickel here, quarter there. My kind of a game where the big loser was down two dollars and the big winner was up three. And we each spent a Jackson on appetizers. The night went on too late, but all we did was laugh at each other - ok, Lon and I exchanged a look every once in a while.
I picked up a couple of interesting pieces at this year's APE. A couple really stand out. Favorites by Susie Cagle is "a sappy autobiographical story" about a pair of Vans that her grandmother bought her one vacation and how she wore them until they deteriorated. She also produced the wonderful This Is What Concerns Me - Remainders. I love little shorts about the things an artist observes. My Father by Yasmin is a pithy short about her father's life and legacy after leaving the kibbutz. And The Goat by Reid Psaltis is a very funny comic about the kid who is always picked last for a team.
The Elm house was opened up just in time for the Halloween party. We took the Friday off work to scrub and dust and primp. The construction left the place a mess. We were exhausted by the time the party started and then enjoyed ourselves to no end. Almost everyone was in costume this year. My SpongeBob outfit let me bounce around like an idiot - perfect.
The SLO gang made it to SLO this year. Apple Farm to be precise. (Remember to look at the queen rooms and save yourself a boodle of treasure.) The usual suspects were on-board for the trip. But over the last year we've made Facebook contact with a bunch of other old farts and invited them along for the trip. Mike and Pat made it. So did Marty. Tim and Bill met up for lunch and convinced us to go to the booster BBQ before the game. I don't think I went to one game in my college life so this was a treat. We sat on the visitors side, which is a sad little hovel that looks directly at the grandiose stucco Spanish crap that is the home team seats. I prefer the visitors side - seems like a wilder set of people. Then there's the Jumbotron which, for some reason, is not used for replays. It seemed to serve no good purpose until a penalty time out and it jumped alive with a booming commercial for some local financial advisor. God that sucks. We had a most excellent time catching up. Diane brought a stash of the best pistachio nuts I've had - directly from her 10 acres of trees. So cool.
Lastly, I'll mention our fantastic Thanksgiving. Dad had dialysis on the day so we saw them the Friday before with Bob and Katie. Everyone is doing well. Bob brought up a new game - Pandemic. Instead of being competitive the players have to all work together to beat the board. I've read some reviews on the web that make it clear - if you feel the need to compete, then everyone looses. An interesting game that we all enjoyed enough to play three times. We tried to line up some friends for Thursday but found everyone committed. Then Don and Cindy invited us along to Kathy and Greg's digs on Pedro Point. They have a marvelous custom built house overlooking Linda Mar to the Golden Gate Bridge - when it's clear. The night we were there you could barely see Linda Mar. The party included Sue and Dave, Cindy's sister, Toni, and a new-to-us couple from Belmont. It was a vegetarian affair and I took a chance on a lemon cheese mousse. As a backup I made some spicy, smoky cream cheese and cold veggies. Despite the fact that the cheese mousse was more like a dessert, they were both regarded warmly. Kathy made some kind of almond pate that was delicious. I can't mention all the dinner dishes, but I had man sized servings of each. It was a warm, welcoming crowd and we enjoyed it to the end.
This weekend finds us painting and sanding. And admiring those kitchen base cabinets. I hope that my next entry will be talking about how well the place cooks.
May 25, 2009
More sad news this time as her dad passed away. It wasn't unexpected, but it's still sad. We made quick plans for a trip to the UK and spent 10 days. Five with her mother before the service, and five with her sister's family. The service was very, very nice. There must have been 100 people, friends and family. After the service we all went to a local pub for a remembrance. I got to renew my acquaintance with Alison and Keith, and Alan and Pat. I also met a lot of people for the first time. As often happens, she hadn't seen some people for many years. A few said they might come to visit us - I hope so, we like visitors. We spent a few evenings with her high school friends; they talked of old times and I tried to keep up.
Alan and Jen were nice enough to host us for the second half of the trip in Birmingham. Tim is now a tall teen and Katie is working on getting there too. Both are fun kids. Jen was on vacation that week and we got to be a big family. They taught us a few new games, and a new spin on Monopoly that keeps it from dragging on. Jen cooked for us a few times, which was delicious. One night we went to see The Technicolor Dream Coat put on by the children's theater. They had only four days to produce it and it came off well. I haven't been to that kind of thing for years and I thoroughly enjoyed it. From times when a few of the older kids acted, to times when it seemed like 50 pre-teens were running around the stage, pausing to say a few words. Tim also gave us many demos of Guitar Hero, while Katie unintentionally shamed me into buying my own iPod Touch so I'd know how to work the damn things.
After the good time we had at Domenico's we had to try the Friday bash at Devil's Canyon brewery. These parties are outside, behind the industrial building that houses the tanks. The place was packed, there was live music. If that's your kind of thing, then this is a good time. I felt like I was back at a college kegger. Too many people just standing around drinking. Damn, I seem to get older every year...
...and heavier. Denise set us up with tickets to the Unico crab feed. Chet and Tracy were there too. And the crab. Jesus, there was a lot. It's always loud but not raucous. This year I didn't win anything in the raffle; just as well.
Don and Cindy married this month, and what a party! The wedding was small and done in a nook of their garden. The weather was perfect. The off to dinner at Zibibbo in Palo Alto. We had several appetizers, which I mistakenly thought to be the meal (is anyone surprised?). Then came family style top sirloin on a bed of mashed potatoes. We met Don's nephews, Cindy's high school chums from Fargo, and Don's college roommate. I like a good dinner and good conversation. Several work in the entertainment business and I enjoyed hearing their perspectives on my own work. Off to a night of dancing at The Little Fox. The crowd was big as so many friends joined us. The night was capped off with some chocolate tarts from Fleur de Cocoa, said to be one of the best on the West coast. (I have been addicted to their indescribable hot cocoa.) Imagine our joy when Sue came over the next day for a chat and brought us half of a left over one. OMG.
It's been a big time for celebrations. Edi turned - we won't say how old - and threw a bash at the historic Buena Vista Winery. Built in 1857 it claims to be California's oldest premium winery. Again, nice appetizers that really did do a job as dinner. Edi's family was there and after a few drinks, offered numerous tributes to her longevity. We had a long talk with Joan and George, who are just nice folks. We'd given up on finding a place - everyone wanted two nights from us - when Janet came up with Marriot American Canyon. I've never even heard of the city. The city web site has no history - oh, incorporated in 1992. The hotel was nothing special, but big and clean and very comfortable. After the shindig we sat around the conference table in Janet's suite (!) until we were too tired to move.
Dina invited us to her April 15 Taxes Are Done! party. As we walked up to her door the porch was papered with old tax forms. The trash can out back was the "final filing" box. I whipped up a quick dip of garlic, sour cream, yoghurt, lemon juice, paprika, and some Tabasco brand Chipotle sauce. It was a bit too garlicy, but still a hit with the crowd. I talked to a lot of fun people. One woman lawyer is good friends with the EFF lead attorney. I enjoyed hearing her thoughts on intellectual property. Ever since reading The Future of Ideas, I can't get enough.
Several friends have come through town. Brent has stayed with us a number of times. I enjoy having him in the house. We talk politics and forest service happenings. Stan and Pam were just in town for a nice long laughing dinner at Spasso.
Nights out we're always looking for things to do. The Kite Runner at SJ Rep was enjoyable. I have yet to read the book; friends tell me the play was very true to it. A bit hard to believe all those coincidences, but I can overlook those for a good story. We were in the UK when Maureen Dowd spoke. We did make it to Fareed Zadaria. He gave an interesting perspective on the war, politics in Washington, and the global economy. He was more bullish on the future of American competitiveness than many others. At times it was a feel-good "come on guys we can do it" kind of talk. Much has been said about all the engineering graduates in India and China. Fareed said, "Where are all these grads coming from? Sure there's IIT, but it can't graduate 300,000 engineers a year." His explanation is that India counts a six month refrigeration tech grad in the engineer category. When you take those out of the mix, the per capital rate of college grads is much closer.
Again her house was on the Going Native Garden Tour. This year there was more publicity and we had 200 visitors, double last year. With the odd weather, the garden was different again. The poppies were in bloom, but not in abundance. The clarkia (farewell to spring) have taken over the side strip, but they are only blooming now. She had plenty of other flowers up, and it was spectacular. I'll add some photos here soon. Thanks to Wendy and Barb for helping to weed at the last minute and then spending all day with me on the greeting table. We finished up our entry to Spring with the CNPS flower show.
The Victorian Preservation Association of San Jose completed their work on Hill House. Hill was a photographer and a founder of the Sempervirens club. He was instrumental in establishing California's first state park: Big Basin. The house has been moved to one end of Kelly Park, where History San Jose has put a number of old buildings. Another place I didn't know existed. They have over 25 restored historic buildings including the electric light tower that used to welcome people to San Jose. History park is a good way to spend an afternoon. Bring a picnic lunch and just hang out.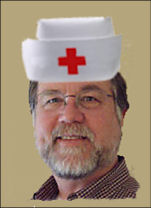 She's in recovery now. Her torn meniscus has been snipped and we're just waiting for the swelling to go down. I'm being nurse, which is not really my strong suit. I feel I'm found wanting. (Tip o' the hat to Paul for the 'shopping.)
The weather has really gone back and forth this spring. We've had some great clear days, then some really hot days, then a week of arctic air that chilled me to the bone. Yesterday it was cold, today it's mild. Hard to know how to dress. I guess short pants and a fish shirt will have to do.
March 21, 2009
This journal entry has to start with the sad report that Uncle Rich passed on in February. It was not unexpected, but it was sad. Some of my earliest memories were of his extensive HO train set up in the basement of my mom's parents house in San Francisco. It circled the room and we had to duck under one side to enter the room and stand in the center of the layout. It was a very special time to watch the trains go by. Rich would let us push the button that threw a switch. If we were really lucky we'd get to move the knob that controlled the speed. When the inevitable derailment happened, Rich would calmly set the train right and tell us to "go a little slower."
I also have some very dim memories of the soap box coasters he made for Mike and me. Their body was an upright 2-foot by 4-foot box with a 2X4 running underneath as the chassis. A little seat was in back and the front axle was another 2X4. I remember mine being painted red. Rich was always the creative engineer.
Just two years ago I heard that one of the old engines from Sacramento was making an excursion down the peninsula with a stop in San Carlos. I was on the platform, positioned to get a picture as the engine came to a stop. The only problem was that it didn't stop. I stepped back out of the way at the last second to have this behemoth scream by my at 50 miles per hour. I was physically rocked by the turbulence. "That was close," I thought. Some months later I told Rich this story and he said, "I was on that train!"
Whenever I see old trains roar by I think of Uncle Rich.
On happier notes, there have been two more astronomy lectures at Foothill. I always enjoy them. The most recent was Steven Beckwith talking about the creation of the universe. Steven was the director of the Hubble space telescope, and just happens to be the brother of Dave Beckwith, a friend from HP. I kidded Dave about getting backstage passes - maybe even an invitation to the post lecture hot tub party. You know how those astronomy groupies like to party! It was a bit eerie to listen to Steven as he shares many of Dave's mannerisms. At times I could almost see Dave on the stage.
Our trip this quarter was to Grand Rapids for the Superbowl party. I can imagine your thought - February in Michigan? True, we made the plans without thinking, but what's 20-degrees between friends? As Pete commented, "that's a warm day in Winnipeg". Paul pointed out that we've been doing this for 10 years. Bob and Carolyn have a large house on the edge of a small lake, with beautiful views of the snow. And there was a lot of snow. For the five days we were there it snowed constantly of big, soft, dry flakes. We huddled in their large living room and ate everything in sight. Carolyn's parents live on the next lake over and offered us an evening of drinks and snacks. One night we took in the local art museum's jazz night. We wandered the galleries and the music could be heard everywhere. In the end we had dinner at the museum where the staff poured wine in water glass sized portions.
Brent has been in Saratoga several times. We enjoy his company. On one trip he introduced us to The Oasis beer garden in Menlo Park. He used to hang out there in the old, old days. It's still got that college kid charm - and excellent burgers. Brent's nephew Ryan's movie "After The Last Round" was shown at the Santa Barbara Film Festival and he was there for the premier. The film tells the story of several retired boxers who are now suffering from the effects of brain injuries. It sounds like a powerful story and we hope to be able to see it in our local theaters.
She was off on a business trip to London for a week, and I took that opportunity to get a lot of stuff done. The new smooth top stove is very nice. At last I can again cook more than two things at once! I also completely reworked the second bedroom. That huge desk is gone. The new area makes a nice place to sit and read. I also got contractors to come out and give us bids to repair our decks. There is a lot of dry rot and I'll be happy when it's fixed.
On the bracketing weekends I got in two nice events. Marty and I saw the Lalique, Faberge, and Tiffany exhibit at the Legion of Honor. The pieces were fabulous. I can't imagine how the craftsman made such intricate and beautiful works of art. I particularly like the well turned vases with fingers of silver sinuously worked up the sides. The next weekend Dina and I took in the "Fantastic Daffodil" show at Filoli. Unfortunately we were about two weeks too early. Walking around the well manicured gardens, I have to wonder what it was like to live in a place like this. Did the Roth's enjoy the gardens or did they sit in the living rooms all day? Dina cooked a nice dinner, I supplied the wine, and a friend of hers from Masters Swimming came over too. He's working at a biotech startup that's chasing the metabolic pathway as the cause of many diseases. Their theory is that in some cases the metabolic pathway may be over active and thus generate more harmful byproducts than the body can deal with. He talked a bit about Coenzyme Q10 (CoQ10). He wasn't big on supplements, but takes this one himself.
With her out of town, Carol was good enough to attend the Charlie Rose lecture with me. His talk was surprisingly non-linear. I felt that he bounced all over the place. I enjoy him more in an interview setting where the other person anchors him. He had just come from interviewing Jeff Bezos and was carrying the complementary Kindle v2 that Bezos is giving away. My own Kindle arrived the next day and I am smitten. You can read about my kindle on other pages.
That's all from here. See you on Facebook...
January 25, 2009
Christmas Day with the family in Saratoga went really well this year. While Mike and Bob were at the in-laws, the cousins were all in town with SOs. JD's dad came over and Jackie brought Betts, a long time friend of hers. Michelle and Bob were in town and they joined us too. Everyone brought food so we had more than we could possibly eat. Michelle, always a good guest for food, brought sweet potatoes, mac 'n cheese, and two dessert breads; she almost brought enough to make the entire meal! I had a ham from Los Gatos Meats that was dripping with juice and filled with flavor. Betts brought along some macaroons from the NY Yacht Club. We forgot to put them out, but Angela and I spent the next month munching on them - they were exceptional. Debbie and I chatted with Lauren about the generational schism of sms messages and how tough it is to use those thumb keyboards. "Not a problem," was Lauren's sentiment. We chided her that 25 years from now she'll be on the other side of the conversation as her kids press a device to one eye while talking with her - basically standing in two places at once. Lauren will be saying, "I can't get the hang of those eye things..."
We had Christmas Eve dinner at Mom and Dad's place with Mike and Gwen. The big surprise was installing the new flat panel to replace the old tuber. Dad said, "I can read the Tivo menu without my glasses!" Surprisingly, I said something similar to Angela when mine went in.
To back up a bit... Thanksgiving was a good time as Dad came back from the hospital ahead of schedule and was feeling great. It's good to have all that behind us. Bob made dinner while Katie was enjoying the infrastructure of the house.
Yeung Li's Fusion is closed now. :-( She had a wonderful menu that got rave reviews in the press. I think the location was not the best. It's been a fun six years of meals. The Dinner Club managed to make one last meal there. This marks the end of Rainbow Rice for me. I could never duplicate it.
This was a big party season for us. Gwen held an open house with her new hubby. I had a long chat with a woman who lives outside Nashville. Her sister is a writer and we talked a lot about what guts it takes to expose your writing to others. We also met, again, Mary from San Carlos. It's surprising how many times we've run into her. They like to play Sequence, so we exchanged numbers and we'll get together for a game date. Then off to Lee and Katie's for an evening of fun. We ran into Peggy B and Phil. We had a little celebration over Obama's crushing victory. What a relief. They left early for a Sun party and we find out that Phil works with Wendy! Another connection of our social web.
The HP3000 group had a holiday party. This time we did some outreach to see if we could get the old marketing crowd to show up - and they did! Vance called a few people and after a bit of "if you come I will" they had a group. Nancy was there. So was Dennis. Vicky, Louie, and Jennie hosted a nice event. We all worked together so long ago that it could be a reunion of strangers, but not so. There was much team building back then and it worked. I'm lucky to belong to a group filled with such nice people.
The yearly Ravizza party was again a winner. Jim Lyons is on the civil grand jury this year. He couldn't talk about the investigations, but he did tell us about the process. I remember when Peggy Propp did her stint in Redwood City. It is a fascinating way to serve. Maybe some day I'll have the time and motivation.
Steve and Patti were house sitting and invited us over for dinner. Patti's just published a cookbook of recipes from her high school years. What a hoot. Patti collected them from alumni and researched the history of each, trying to find an original source. Imagine the kinds of stuff you can cook up with lard, flour, canned vegetables, and cling peaches. The proceeds all go to a scholarship fund. Patti nicely signed a copy for my "stuff friends make" collection.
Then we were off to The Oaks at Ojai. This is the sister spa to The Palms, in Palm Springs - now closed. Marty wanted to go somewhere and so she and Glinda met us for the week. It was five days of yoga, aerobics, toning, and relaxation. We met a number of people this week. One night we ate with a couple from the midwest. She's a psychologist and he's a neurosurgeon. The post dinner presentation was "seeing better through exercise." I thought it was about improving your outlook on life - wrong. He tapped his glasses and said skeptically, "exercise the eye and do away with glasses." Oh, that junk. I think Consumer Reports debunked it several years ago. We laughed and spent the evening reading.
Then there were two women from NY. One a marketing consultant on selecting sounds to fit your corporate image, the other a medical sales rep. We had a lively discussion with them. They'd been at The Oaks for two weeks and were a bit tired of the "tell me what you do" chatter. So I asked to hear something they hadn't told anyone yet. That elicited a pause and then one told us about the time she'd been on Page 6 covered in shaving cream. Seems she'd been working at an ad agency to introduce a new razor. They planned to have a city barber set a new world record time for shaving people. When the day came there was other breaking news and they got no press. They regrouped and decided to offer free shaves at a famous university. They'd shave 1000 people in one day. They were all set to go, but no students showed up. What to do??? She started offering passing taxi drivers $25 for every person they brought back to be shaved. Being a sweet young thing at the time, she got a lot of activity and even convinced some of the drivers to get in line. The event was a success. Everyone was celebrating and they tossed heaps of shaving cream on her as a victory celebration. Well, the press used that photo to report the event and she became a Page 6 girl.
Then her friend said, "well, others know this but you don't..." and she proceeded to tell us about the summer she worked for the medical examiner. Her job was to type up autopsy reports, but she couldn't really type. There was another intern who's job was to assist the doctor, but half way through the first one she couldn't go on. Our friend asked her, "can you type?" She could and they changed jobs. That left our friend weighing the organs as they were removed from the bodies. She went into some detail, but luckily dinner was over.
Interesting stories. In retrospect I wonder if they were having us on. They are bright girls and I wouldn't put it past them. If they're back next year I'll put the question to them.
We also met Daily and Jill. As one of the few men at the spa, Daily and I had an instant bond. At the NYE casino night we hung together behind the women who were playing and commented on the games. He and Jill are retired and it sounds like they have a nice life traveling around. They've been on several of the cruises that The Oaks organizes; we might have to try one too.
On our travel to The Oaks we spent a day with Rick and Sheila. The boys were home and I was introduced to online Halo. Rick also introduced me to a bottle of old scotch. In return I left them a can of Spam which Rick helpfully mailed back to me with several other unusual items. We also stayed a night with Bob and Katie in Atascadero and watched August Rush. An entertaining, light film.
I've downloaded the data on 2008 presidential election contributions. All 4M records are in a database and I've found some interesting things.