| | |
| --- | --- |
| Fishing '97: Jon does good | |
Went up to Jon's place at Pine Mountain Lake for a little R&R away from the pressures of the valley. Jon has a super place in the gated community, just a short drive to the marina. Jon and I got in about 3PM on Friday and immediately headed out in his patio bass boat. We trolled around a bit before Jon pulled in a couple of small bass. I didn't really know what I was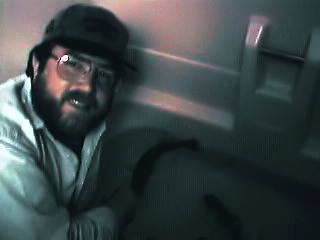 doing, but Jon gave a few lessons and the next thing you know, whap, a 2.5 pound bass in on board! Jon's happy for me, but now he's fishing like a demon. Bang, he brings in one a little shorter than mine, but fatter around the middle.
I ask Jon if we're going to clean them for dinner and he replies, "Hell no, we're putting these babies in the bathtub until Steve and Vance get in." Oh yeah, I forgot that Jon has never caught fish in the presence of Vance and Steve. This in spite of the fact that Jon has more fishing gear than BofA has vice presidents. We've been on several fishing trips over the year and Jon has always been barren. I remember one time when a first time fisherwoman landed a jock strap (no lie) and Jon still had nothing. Another time he was so strung out that he was left standing on a three foot wide rock in the middle of the lake while the boat took a potty trip to the marina. Man, he wanted fish. Now his long dry spell has been broken... unless Steve and Vance have car trouble and don't make it up!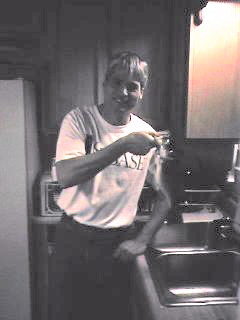 Well, they did make it up, and Jon is redeemed.
Saturday we're all out on the lake and the action is slow for everyone. Everyone but Jon that is; he's busy pulling in little bass from every side he casts on. I get a couple over the course of the day. Even Steve starts hooking up a few. Vance? He's skunked. Big time skunked, until he at last brings in one towards the end of the day. Back in the cabin Jon magnanimously suggests that we could change the pool to be "most fish" instead of "biggest fish." A second later he comes back to us, "Oh gee, I guess I'd win that too!" Ho ho ho.
Sunday is a bit less interesting as slow fishing keeps us motoring around all day. Still, a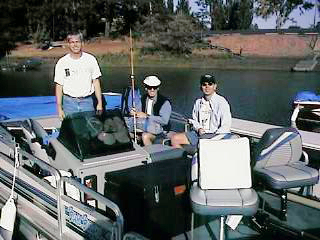 day on the lake is a far sight better day than a day in the valley. With the trolling motor on we move lazily around the lake until it's time to head back home.