Home Theater

on the cheap?
2002 - Home Theater. The concept has always intrigued me. I have had visions of a long, narrow room with a screen at one end, dark red velvet on the walls, and plush seats with a pop corn machine. A great idea, but I'll never have a house with a spare room to dedicate to this. And even if I did have a spare room, I have several other ideas waiting to use them up. Plus the cost of the big screen - several thousand dollars. I just don't watch enough movies to make this extravagance pay off. Then something changed.
I've been reading about the big cost reduction in LCD projectors. In the last several months PCWeek and the Mercury News have both had articles extolling the virtues and explaining the options. Even the WSJ had a article on the coming wave of home theater set ups. No longer does it cost $4,000 for a good quality set up, so they say. I'm here to tell you they are right!
All the activity finally got me to bring home the LCD projector from work one night. I set it up behind the couch. For a screen I used an old paint drop cloth and some masking tape to hold it to the wall. I plugged in the VCR with Fantasia and sat down to view the results. At first there was too much light and I could hardly see the picture. I let the movie run as I did a few chores around the house. By 8PM the sun was down and I was sitting on the couch, enthralled with the event. Oh my God. The 5x7 foot screen size was simply amazing. It was a bit high on the wall so I got a crick in my neck, but I was hooked.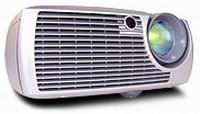 With Google I found Projector Central. This site is just filled with interesting information about LCD and DLP projectors. Bottom line: DLP is the way to go for home theater. Second bottom line: the InFocus X1 is the best buy today. So, looking on Amazon.com I bought one. One week later it came and I played a second feature for Ray and Angela: Buster Keaton in The Navigator. Wow. Stellar performance. Now it was time to find a real screen.
Once again the web came in handy. Da-Lite has another excellent site to explain all that you want to know about screens. The bottom line here: High Power is the material to get. Video Spectra 1.5 material if you are really worried about wide angle viewing. I knew that I wanted a screen to hang from the ceiling from hooks. This would make the smallest disruption to my house and allow me the most flexibility to put it anywhere. Unfortunately for me, I scheduled the premier night before finding out that these screens are not carried in stock anywhere. I had to rent an 8 foot screen from the local multimedia place. The good news is that they provided me with 6 by 8 inch samples of each screen material. I was able to hold it to the screen and see the difference. High Power was noticeably brighter and more colorful.
Any glitches? Two issues and one annoyance. The issue: the InFocusX1 projects too large an image in my house. I placed the projector 17 feet from the screen. At that distance the smallest image size is eight-feet across. In reality, this is a bit too big for a screen. I wish I could zoom it in more to get an image that's on the order of 6 feet wide.
Second, the screen type I ordered has a right way and a wrong way to use it. When you buy this kind of screen you have to specify if the projector will sit above you or below you. I picked the wrong way and so the image is not as bright as it could be. How do I know? When I stand up the image is noticeably brighter. Oh well.
The annoyance? The InFocusX1 has a built in up angle; it projects 22 degrees from the horizontal. This is a great feature when it sits on a table in an office. In home theater I mounted it high and behind so that the seated guests would not cast shadows. This means I have to tilt it up quite a bit. Right now I have it mounted seven feet off the ground and the ass end of the unit is up about four inches. Not a big deal, just not ideal.
Any pleasant surprises? You bet! Built in keystone control makes the projected image perfectly square. Bright? At 1100 lumens bright enough to look great. Fan noise? Almost none.
Some people have written about the rainbow effect of a DLP. I can see it from time to time, but it goes away after I've watched the screen for a few minutes. Only one of my guests was able to see it.
So, for a total of $1,400 I now have an 8 foot wide home theater set up. God, I love it.
See what we've watched so far.
---
Jim Schrempp is a sometimes freelance writer (only Vanity Press will publish his work) living in Saratoga, California. His writings have appeared on numerous pages on his own web site. The opinions expressed in this piece are those of the writer and do not necessarily represent those of anyone else (although Jim wishes more people shared his opinions)