Maker Jim: Replacement Parts
The swirling around about 3d printing (additive manufacturing) is about art, lowering the cost of complexity, and build on demand. Eventually manufacturers, so it is said, will make 3d files of their parts available for their customers to use. I think it is more likely that they will keep these files closely guarded. They might build replacement parts *for you* on demand, and at a cost that keeps them in business.
In the mean time, the cost of generating your own models gets cheaper and the process easier. I've made good use of AutoDesk Inventor, the Next Engine 3d scanner, and Shapeways manufacturing.
Iteration 1: Water Heater Fitting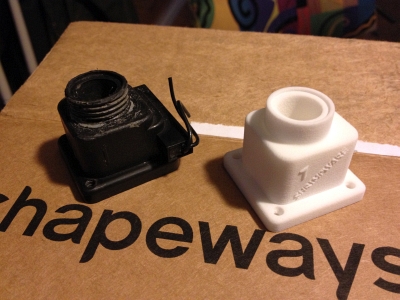 Vance had a problem. A key piece of his on-demand hot water system broke. Little, plastic, and under strain it gave way.
It was a regular part and I dove into AutoDesk Inventor to create the part.
If you need one, buy it at
Shapeways
.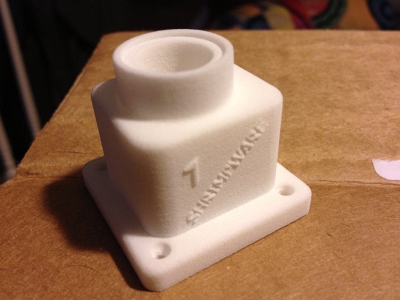 You can see in this close-up that the edges are all filleted. I was even able to put my brand on the side. That is some slick software and some cool 3d printing.

3d doesn't print the threads; I was planning to use a die on the plastic.





The inside is also done smooth and clean. I made the walls a little thicker than the original to make it stronger.

Bad news for all of us - the material is not food safe. We can't have this in a domestic water supply. Damn.

A good exercise in the process.

Iteration 2: Waterfall Drawer Pull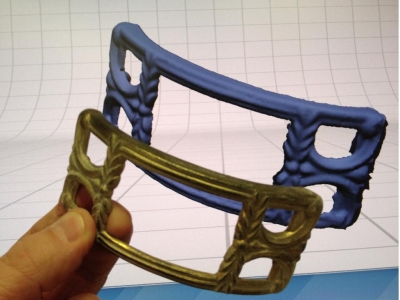 Angela bought an old art modern "waterfall" bedroom set at an estate sale. She got it for a good price. And it has these awesome drawer pulls. They're brass and have some translucent plastic insert meant to look like amber. Unfortunately one handle was missing.

No problem in today's world. Just scanned one of the existing pulls with the Next Engine 3d scanner.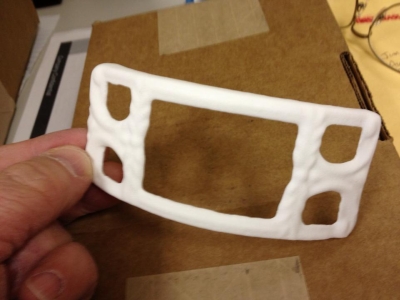 If you need one, buy it at
Shapeways
.
Just need to paint it and mount it.
Sweet.
Iteration 3: Mazda RX7


Vance had another problem, a broken strut cover for his old Mazda RX7. The car is old and he couldn't even find a part number at first. In TechShop I made the design and got it printed.

In this photo the broken one is on the left, the middle is what it fits into and the two on the right are the 3d printed replacements.
We eventually found the partnumber, we think: FB67-56-353.
This photo shows a white one that Vance primed and painted before installing it. I guess he also painted the part it fits into. Looks good!
If you need one, order it yourself
Shapeways
.