What is this page and why have you found it? This page is meant to find you!
I've been involved with a web site that lists my ancestors. The site gets visited by people from all over the world who find the site through web search engines. I wondered if the same thing would work to help me get back in touch with people I haven't seen in a long time. So, I put together a few pages of the names of people I knew at different times in my life. If you found this page, I'm hoping that you are one of the people listed at the bottom of the page.
This page covers my Cal Poly days. The earliest crowd was Yosemite Tower 8, my freshman year. That's me behind Gene K. Nelson.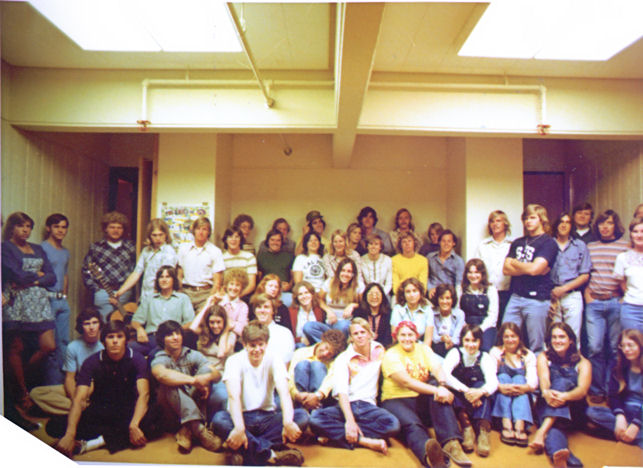 If you used to know me, why not email me ... and say hello.
We used to go fishing at Avila Beach. Me, Rick, Pat, Jeff. Check out those prices!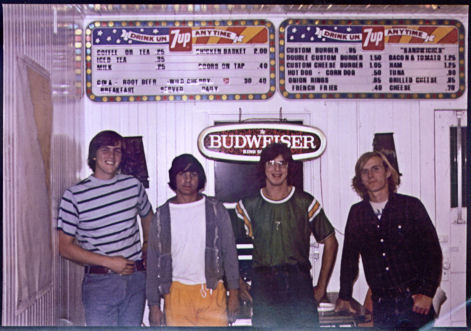 Yosemite Dorm Tower 8
Mary Bertania, Cindy Brophey, Kelsy Butts, Lance Capels, Marty Conway Marcie Donald,
Pat Draeger, Pam Euless, Don Holmes, Lorna Franchetti, Jeff Frye, Steve Kamori,
Carol Konrath, Karen Lidstrom, Gene K. Nelson, Jim Norris,Karen Ollikkala, Ron Olivas, Rick Raives, Dave Ravizza, Pat Robinson, Jim Merrit
Carey Roscrow, Tom Schaffer, Mike Schmit, Margie Strasser, Fred Van Wintergarten, Dave Winters
Rob , Ted Zeppelin, Kris K
On Campus
A. C. W. Bethel (fighting a rear guard action to preserve men's dress), Jim Beug,
Bruce Bramson, Bob Coulter, Zoltan Dala, Marcus Gold,
Ron Granvold, Reino Hannula, Fred Harris, Brian Hintergardt
Roland Hill (clear to the right and above), Stafford Muller,
Dick Tibbets, Lynette Tibbets, Jim Tracy
Woody Hopper , Kathy Eichler , Grace , Neal

Bond Street
Lee Cyr, Sorrel Davis, Gayle Gillfillan, Ed Hawkes, Nancy Hart, Sue Hart,
Rusty Meyers, Maggie Norman, Nancy Norman, Jim Merrit
Diane Agnew, Linda Toby, Jeff Thornton,
Lisa , Jane Sheppard , Kay Tennies (Chippy)